Assessing the ocean's health by monitoring shark populations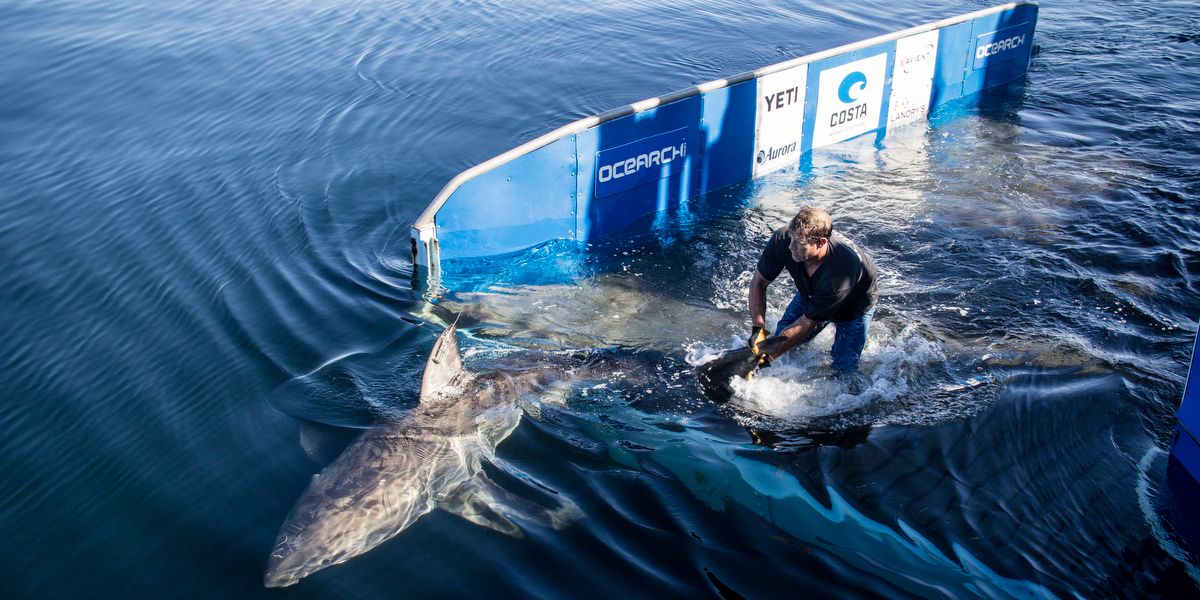 OCEARCH is a data-centric organization built to help scientists collect previously unattainable data about the ocean. Their mission is to accelerate the ocean's return to balance and abundance, through innovation in scientific research, education, outreach, and policy, using unique collaborations of individuals and organizations in the US and abroad.
As part of the Amazon Sustainability Data Initiative (ASDI), we invited Fernanda Ubatuba, president and chief operating officer (COO) at OCEARCH, to share how her organization is making strides in helping ocean conservation and how Amazon Web Services (AWS) is supporting her mission.
Monitoring the oceans' apex predators: sharks
Two of the biggest problems preventing us from effectively managing the oceans are a deficit of essential data and time running out on fixing our oceans' problems. We need to collect and process unprecedented data sets with a sense of urgency and efficiency to drive our oceans back to abundance.
95% of the ocean remains unexplored and the lack of data for those areas is detrimental to ocean conservation efforts. The path to an abundant ocean requires uncovering the life history of our ocean's apex predators: the sharks. As balance keepers, sharks' lives, including their migratory and dietary habits, are key indicators of ocean health. However, the traditional methods to monitor these "big fish" are expensive and inefficient as they require catching, tagging, and tracking the sharks, which considerably limits the number of data points collected and its value.
OCEARCH works to accelerate the ocean's return to balance and abundance by disrupting the traditional methods utilized in research and conservation efforts. We do this by enabling large teams of collaborating scientists and experienced fishermen to collect critical data while making these findings available to the public via open access. OCEARCH collects satellite telemetry data on shark movements and then makes these data available via open source through ocearch.org and the free OCEARCH Tracker App, made widely available to the public by Amazon Web Services (AWS).
The data collected supports 180 scientists from 90 institutions worldwide who work to advance 23 distinct research projects. The collaborative environment enabled by AWS provides access to previously unattainable data about apex predators and helps determine overall ocean health, inform fisheries management for sustainability, and support public safety efforts.
Training the next generation to steward the oceans
In addition to supporting research, OCEARCH has a strong focus on building awareness and literacy in ocean conservation. We believe we must educate and inspire students to become global citizens and steward ocean resources. To support this effort, OCEARCH developed a critically acclaimed science, technology, engineering, and math (STEM) learning series. With more than 100 free Next Generation Science Standards (NGSS)-approved lessons plans, OCEARCH provides students with the opportunity to access and use real-time scientific data to further their educational experience and inspire STEM careers.
AWS helps OCEARCH store and share their data in a user-friendly format via the OCEARCH Tracker App, making the ocean data useable by ordinary people and students, in addition to scientists. This democratizes access to ocean data and empowers people around the world to work toward the goals of restoring the balance and abundance of the ocean.
The app allows millions of users to track sharks and other aquatic species in near-real time, learning alongside scientists as they conduct their research. To date, the OCEARCH Tracker has engaged with over 20 million unique users, bringing the ocean to everyone's day-to-day lives in a dynamic and engaging way.
OCEARCH uses Amazon Simple Storage Service (Amazon S3) for storage of their collected data, Amazon Relational Database Service (Amazon RDS) for their shareable database, Amazon Elastic Compute Cloud (Amazon EC2) for compute power, and Amazon Route 53 as the domain name system.
An inclusive approach to conservation
OCEARCH's innovative approach to ocean conservation is unique in its inclusive vision. We believe that to solve complex environmental issues, we must create a platform to foster collaboration. We connect the practical (expert fishermen) with the academic (researchers) to generate previously unattainable data for sharks, keystone species for ocean conservation. We work with socially responsible companies to communicate the importance of a healthy ocean. We share our scientific findings in real-time with the public to inspire the new generation of stewards of the ocean. We share scientific findings with government agencies to generate data-centric policies around fisheries management and ocean conservation at local, regional, and global levels.
We must drive impact for a better tomorrow. You can join our mission by downloading the OCEARCH Tracker App, making a donation, or shopping from our partners that directly support our programs.
Learn more about the Amazon Sustainability Data Initiative.