From complexity to clarity: The strategic value of AWS—What you missed at re:Invent 2020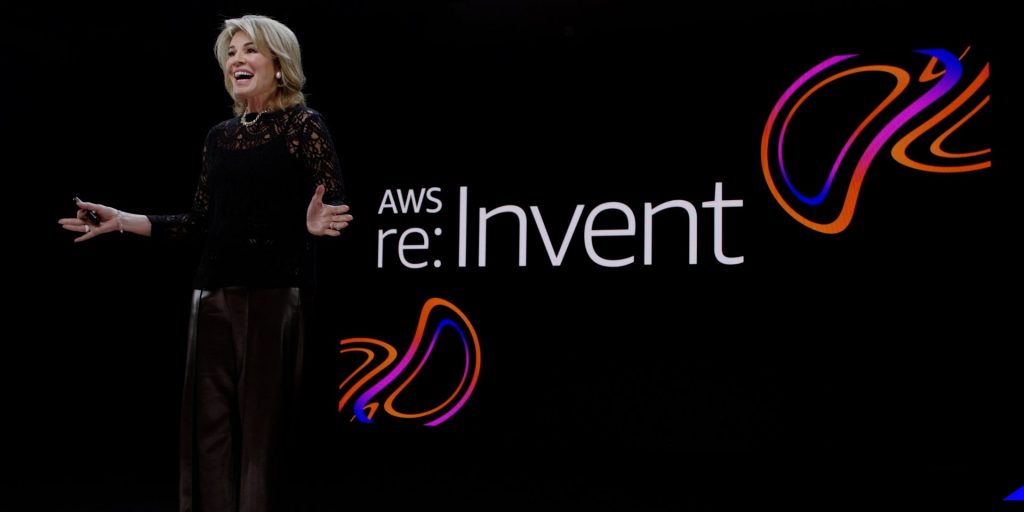 At re:Invent 2020, Teresa Carlson, vice president and leader of Amazon Web Services (AWS) public sector and industry business units, shared stories of how cloud technology has proven critical for organizations to move fast and respond to a new reality shaped by COVID-19. Teresa also welcomed customers UK Biobank, Capella Space, and Wefarm to share their own experiences with solving some of the world's most pressing challenges using the cloud.
Here are 10 key takeaways that show what's next for the public sector:
Data + cloud = clarity
Data is being created faster than ever, and the cloud offers the scale and capabilities to gain real-time insights. "The value proposition of data has fundamentally changed," said Teresa. "Getting value from your data is no longer a project for the future. The time to act is now."
In April, AWS launched CORD-19 Search: a search engine powered by AWS machine learning (ML). It allows researchers to ask questions in natural language. For example, "What are the symptoms of COVID-19?" The search engine analyzes hundreds of thousands of scientific and research documents related to COVID-19 and provides both specific answers and a library of related documents.
Similarly, UK Biobank collects a vast amount of biological and medical data on 500,000 volunteers in the United Kingdom (UK) and then makes it accessible for scientific research. Biobanking is a process where samples of human bodily fluid or tissue to improve our understanding of health and disease. Naomi Allen, chief scientist at UK Biobank, shared how they are making this de-identified data—the largest and richest dataset of its kind—accessible to researchers around the world who use it to help make new discoveries about common diseases and in turn, improve human health.
"Our aim is to enable as many researchers as possible globally to access UK Biobank data, to apply their expertise and imagination to it, and make scientific discoveries that will improve human health," said Naomi. "Importantly, it will also enable data access to a broader range of researchers around the world by democratizing access to those who aren't able to download it." Currently, 17,000 researchers in more than 70 countries use the data in the UK Biobank, with 2,000 research projects underway yielding more than 1,300 published papers. AWS also pledged $1.5 million in research credits to support access to approved researchers, helping to increase the opportunities more broadly.
The cloud can help access and analyze high-quality data at scale
AWS launched the Registry of Open Data on AWS in 2018. Since then, the registry has grown to more than 200 datasets and counting. Teresa announced that the US National Institutes of Health (NIH) is making the Sequence Read Archive genomic data available on the Registry of Open Data on AWS. The Sequence Read Archive is one of the world's oldest and largest public repositories for DNA sequencing data. With millions of users annually, it is an invaluable resource for the research community.
Mission-critical focus in complex environments
AWS now supports more classification levels, laws, regulations, and security frameworks than any other cloud provider. We remain the first and only commercial cloud provider to offer regions to serve government workloads across the full range of US government data classifications.
As a result, mission owners in the Department of Defense use AWS every day to move fast and deliver on major mission objectives. For example, the U.S. Navy used AWS GovCloud (US) and AWS Snowball Edge to migrate their largest SAP enterprise resource planning system, with 72,000 users across six commands to AWS. The Navy achieved this migration 10 months ahead of schedule by using AWS edge storage and edge computing capabilities.
Accelerating executive education: Learn from peers on a successful transformation
To help accelerate mission focus and innovation, AWS is expanding the AWS Government Executive Education Program. This responds to feedback from senior leaders in government wanting to learn from and connect with other governments who have succeeded in transforming their mission. The short, virtual, masters of business administration (MBA)-style course provides attendees with the knowledge and skills to lead transformation based on what has and hasn't worked from around the world.
New applications of space data to gain better insight into life on Earth
"We, as humans, still do not have the ability to monitor our own planet reliably and persistently," said Payam Banazadeh, chief executive officer (CEO) and founder of Capella Space. Built four and a half years ago by Payam after commercial flight MH370 went missing on its way to Malaysia, Capella is helping its customers by making Earth observation data available to review, study, and analyze.
Capella Space designed, built, launched, and now operates the only commercially available American all-weather and all-light imaging capability from space with a resolution of better than 50cm. Using AWS Ground Station, Capella is also able to deliver data faster to their customers—in less than an hour versus the average of 24 hours. Earlier this year, Capella announced it went all in on AWS.
This mission enabling capability can help empower customers to use space data in ways never possible before. Customers use cloud-based aerospace and satellite solutions to solve big challenges and the timely observation of our planet can help predict, monitor, and track both man-made and natural disasters, including shedding light on deforestation in Amazonia, enabling firefighters to see through the smokes of wildfires, and providing mapping for urban development.
Investing in people and communities
"One of the most important parts of digital transformation is your people," said Teresa. As the largest cloud provider in the world, AWS sees a unique opportunity to help our customers teach skills that align to in-demand cloud jobs, particularly in a year with layoffs and educational disruption.
This year, AWS collaborated with leaders in both Arizona and Utah to extend cloud curriculum to reach 10,000 students by 2022. The states are harnessing education programs like AWS Academy and AWS Educate to prepare students for entry-level jobs in cloud computing. Each state committed to train 5,000 students. This is the first step to connect residents with local cloud jobs and expand local tech economies.
Scaling to meet unprecedented demand in education
The pandemic initially forced more than 1.2 billion students out of classrooms worldwide, and tens of thousands of universities and schools switched to online learning. These organizations needed to scale to handle demand and have done so with AWS and AWS EdTech partners. As of September, Blackboard has scaled 50 times to support 1.6 million concurrent users. Schoology hit a record of 2.2 million concurrent users and serves 6.9 million students per day.
Helping small and medium businesses in renewable energy
"We believe small and medium businesses worldwide can use cloud computing to grow," said Teresa. To support this, Teresa announced that Amazon is supporting a new initiative by the American Council on Renewable Energy (ACORE) to support women-owned and minority-owned businesses in the renewable energy field. Through this effort, Amazon will extend AWS Promotional Credit to promising small and medium businesses. Businesses will also have access to no-cost benefits from ACORE, including in-kind legal services and other targeted support.
Enabling sustainable agriculture
The small-scale farming industry is the most important, and one of the biggest, industries on the planet. One billion people in the industry provide 70 percent of the food in homes. Wefarm is the world's largest platform for small-scale farmers, and its mission is to enable farmers who drive this industry to fulfill their economic potential.
"Lack of connectivity to one another was stopping incredibly valuable farmer knowledge from being shared at scale," said Adam Neilson, chief technology officer (CTO) of Wefarm. "We knew a platform that connects farmers would give them the tools needed to solve these challenges. So we built it."
More than 2.5 million members use Wefarm to share knowledge within the community and buy farming inputs through the marketplace. They use Amazon Simple Storage Service (Amazon S3) for storage, Amazon Simple Notification Service (Amazon SNS) and Amazon Simple Queue Service (Amazon SQS) for asynchronous messaging, Amazon Elastic Kubernetes Service (Amazon EKS) for their compute cluster, and AWS Lambda for serverless processing. Wefarm is able to operate with or without an internet connection, allowing farmers in the network to submit questions via SMS and making sure all farmers can connect and benefit from the support of the wider community.
Learn more about technology-enabled sustainable agriculture.
Paying it forward and giving back
Every year, the AWS worldwide public sector team finds a way to give back. This year, Teresa announced two donations: one to the United Nations (UN) World Food Programme and the second to Three Square Food Bank in Las Vegas, Nevada, the home of re:Invent.
As she closed her presentation, Teresa encouraged the audience to give whatever they can by committing random acts of kindness. In the coming weeks, "spend some extra time with your family," said Teresa. "Even if it is through video or a phone call. And if you can, take some time to support a cause that is personal to you."
"We are blessed in so many ways," she said, "including being able to welcome you to this virtual conference."
---
Check out the public sector guide to re:Invent. You can still register for re:Invent, the no-cost, virtual premier cloud event.