In the Works – AWS Region in Spain
We opened AWS Regions in Sweden, Hong Kong, and Bahrain in the span of less than a year, and are currently working on regions in Jakarta, Indonesia, Cape Town, South Africa and Milan, Italy.
Coming to Spain
Today I am happy to announce that the AWS Europe (Spain) Region is in the works, and will open in late 2022 or early 2023 with three Availability Zones. This will be our seventh region in Europe, joining existing regions in Dublin, Frankfurt, London, Paris, Stockholm, and the upcoming Milan region that will open in early 2020 (check out the AWS Global Infrastructure page to learn more).
AWS customers are already making use of 69 Availability Zones across 22 regions worldwide. Today's announcement brings the total number of global regions (operational and in the works) up to 26.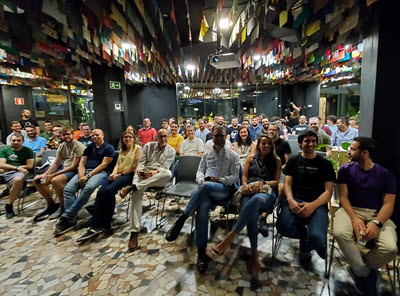 I was in Spain just last month, and was able to meet with developers in Madrid and Barcelona. Their applications were impressive and varied: retail management, entertainment, analytics for online advertising, investment recommendations, social scoring, and more.
Several of the companies were born-in-the-cloud startups; all made heavy use of the entire line of AWS database services (Amazon Redshift was mentioned frequently), along with AWS Lambda and AWS CloudFormation. Some were building for the domestic market and others for the global market, but I am confident that they will all be able to benefit from this new region.
We launched AWS Activate in Spain in 2013, giving startups access to guidance and one-on-one time with AWS experts, along with web-based training, self-paced labs, customer support, offers from third-parties, and up to $100,000 in AWS service credits. We also work with the VC community (Caixa Risk Capital and KFund), and several startup accelerators (Seedrocket and Wayra).
AWS in Spain
This upcoming region is the latest in a long series of investments that we have made in the Iberian Peninsula. We opened an edge location in Madrid in 2012, and an office in the same city in 2014.We added our first Direct Connect location in 2016, and another one in 2017, all to support the rapid growth of AWS in the area. We now have two edge locations in Madrid, and an office in Barcelona as well.
In addition to our support for startups through AWS Activate, we provide training via AWS Academy and AWS Educate. Both of these programs are designed to build knowledge and skills in cloud computing, and are available in Spanish. Today, hundreds of universities and business schools in Spain are making great use of these programs.
The AWS office in Madrid (which I visited on my recent trip) is fully staffed with account managers, business development managers, customer service representatives, partner managers, professional services consultants, solutions architects, and technical account managers. I had the opportunity to participate in an internal fireside with the team, and I can tell you that (like every Amazonian) they are 100% customer-obsessed, and ready to help you to succeed in any possible way.
— Jeff;
PS – If you would like to join our team in Spain, check out our open positions in Madrid and Barcelona.