Appian Workforce Safety Helps Workplaces Reopen and Stay Open
By Sasha Cassidy, Solutions Success Manager at Appian
The COVID-19 pandemic has disrupted the way companies operate around the world. Still, organizations need to stay productive to serve their customers, and many have already reopened to onsite work.
Others are planning how to get their workforce back onsite as soon as possible, while still putting health and safety first. Whenever it happens, reopening will require constant vigilance and careful planning.
The U.S. Centers for Disease Control and Prevention (CDC) has released recommendations on using case management solutions to help organizations respond to the complexities of returning to onsite work in the midst of the pandemic.
They highlight a new software category that's emerged to help businesses keep their reopening plans on track and maintain safe work environments. These solutions range from basic survey tools to comprehensive software-as-a-service (SaaS) applications.
Appian, an AWS Partner with Competencies in Healthcare and Life Sciences, is a leading provider of low-code automation software. Our unified solution helps organizations ensure a safe, smooth transition back to onsite work, while maintaining the privacy and security of employee health information.
Appian Workforce Safety is available on the HIPAA-compliant and HITRUST-certified Appian Cloud, powered by Amazon Web Services (AWS). The solution integrates contact tracing and incident case management with vaccination tracking, health monitoring, COVID-19 testing, and facility and visitor management into a single response hub.
Leading companies trust Appian to help them reopen and stay open safely. This post explores Volkswagen Group of America's experience.
The Balancing Act of Returning to the Workplace
Reopening stores, offices, manufacturing plants, and other facilities in the middle of a pandemic is incredibly complex.
Organizations need an effective way to ensure employee health and safety, protect sensitive data, comply with government regulations, manage all of their facilities, and rapidly respond whenever there is a positive case or potential exposure—all with minimal disruption to the business.
Appian Workforce Safety was built with each of these key elements in mind. During this incredibly tumultuous time, we have worked closely with customers across a variety of industries (including financial services, insurance, life sciences, retail, and manufacturing) to leverage the power of our leading automation platform and deliver a fast and secure way to return to the workplace.
The solution's experience is focused on safety and prioritizes ease of use, proactivity, and automation.
Reopening plans need to take many factors into consideration, including health screenings for employees as well as others who may be onsite like contractors, visitors, customers, and maintenance staff.
Organizations must also pay close attention to their facilities. Social distancing measures, touchless entry at doors, increased ventilation, and more frequent cleaning schedules will all help keep employees safe. Some robust software applications will help you manage facilities and may even connect to your badging system to enforce capacity limits at each of your sites.
When there is a positive COVID-19 test or a potential exposure to the virus, businesses need protocols and systems to help them act quickly. Case management solutions can help with contact tracing and notifications to anyone who may have been exposed. They can also invoke automated processes for shutting down sections of buildings and disinfecting areas quickly.
Going forward, some organizations are looking for ways to monitor regular (even daily) COVID-19 tests for their workers. Many companies are tracking employee vaccination status and may alter their operating procedures, capacity limits, and COVID-19 protocols based on this information.
All of these practices have to run on secure, compliant systems. Organizations have to comply with data privacy laws such as GDPR, HIPAA, and HITRUST, as well as national, regional, and local government guidelines.
A Unified COVID-19 Response Hub
Appian Workforce Safety can help get employees back to the workplace safely and with minimal disruption. Time is of the essence, which is why the solution can be deployed within hours, even without IT resources.
Employees can easily update their health information, provide their vaccination status, and obtain mobile passes for onsite work in the simple interface that runs on web or mobile devices.
The employee home screen, for example, displays daily QR-coded mobile passes for onsite work, as well as the option to update health information and vaccination status.
Figure 1 – Workforce Safety employee home screen.
Workforce Safety gives organizations a unified command center to see and manage the health and work status of all your employees in real-time, through a single interface.
You can monitor how many employees have received a pass to come to the workplace, how many have (or have had) COVID-19, and how many are vaccinated at any given time, across all of your facilities.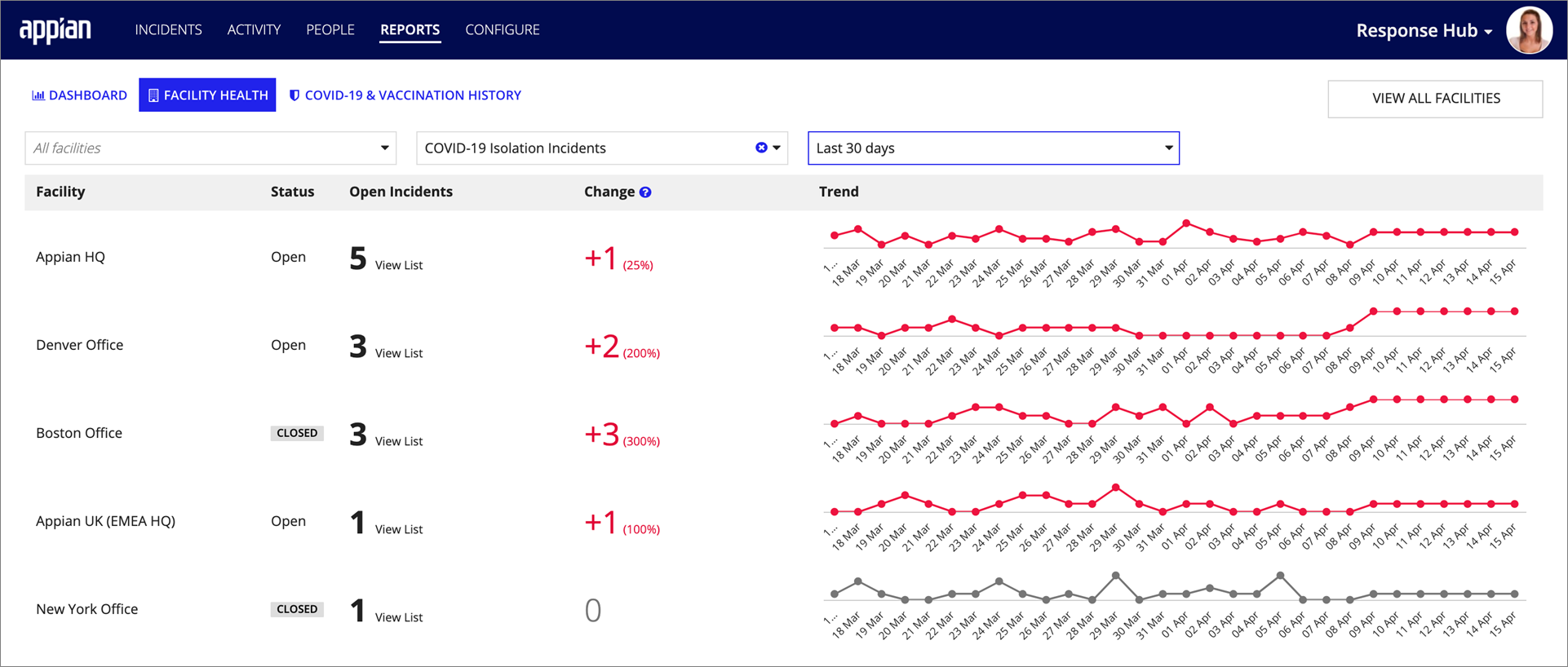 Figure 2 – Facility Reporting shows COVID-related health incident trends by location.
When COVID-19 incidents occur, your organization can make highly informed decisions quickly within the solution. Contact tracing enables you to clearly see who is at risk and kick off automated processes to notify individuals, ask groups to stay home, and require testing before returning to the office.
Additionally, you can pull reports and use the data to clearly see any open incidents and the number of vaccinated individuals at a certain facility to decide whether to shut down a section, floor, wing, or entire facility.
Figure 3 – Response Hub includes incident management and vaccination insights.
Workforce Safety comes with a library of pre-loaded rules based on health organization guidelines and government regulations. However, you can also configure the solution without any coding to meet your unique needs, including specific regional or facility requirements.
Figure 4 – Update employee health survey questions and regional or facility-specific requirements.
Workforce Safety runs on the Appian HIPAA-compliant and HITRUST-certified cloud so you can protect sensitive employee health information.
The Appian Cloud, powered by AWS, provides the safety and flexibility to scale the solution across your enterprise, make quick and easy changes to the application in real-time, and adjust to the ever-changing COVID-19 pandemic as you need.
How it Works
Cloud-native architecture forms the foundation of the Appian platform, on which Workforce Safety is built.
The Appian platform uses a layered approach with three "planes" running on top of AWS: the data plane, the control plane, and the management plane, with each layer compartmentalized from the others.
This allows for high levels of security, as the information at each level does not co-mingle with the others unless it's specifically told to do so. Each plane encapsulates different protocols and behaviors, leading to a scalable and resilient system.
Cloud-Native vs. Cloud-Washed
Appian's cloud-native architecture design is more than just a virtualized version of on-premises applications, delivered via the cloud. Software such as this (that is, an on-premises application placed in the cloud) is known as "cloud-washed" architecture.
Cloud-washed keeps all of the work of deploying and maintaining traditional software and infrastructure, but none of the benefits of cloud-native architecture. Cloud-native is clearly the way to go for security, performance, and maintainability.
Figure 5 – Cloud-native architecture forms the backbone of the Appian platform.
Tenant Architecture and Site Isolation
Appian Cloud gives each customer a dedicated, single-tenant virtual machine instance for each cloud site hosting Workforce Safety that isolates processing and storage at the operating system (OS), database, and application layers.
Resources are never shared with other customers, so pooling or data processing alongside other customer's Workforce Safety data is never a concern.
In addition, each customer gets separate development, test, and production instances for their Workforce Safety solution, which are all isolated from each other in the same manner.
Stateful inspection firewalls, such as AWS security groups, isolate each site and provide ingress- and egress-level security through individual and group access control. These virtual firewalls enforce segmentation between separate client instances in the virtual private cloud.
AWS security groups also give Appian precise control over what servers are allowed to talk to each other and how they can communicate. Each server in Appian Cloud is assigned to one or more security groups with explicit data flow rules controlling the traffic (port or protocol, for example) allowed into that server. Any traffic not explicitly defined is not allowed.
Physical Security
Because Appian Cloud is hosted by AWS, all hardware resides in AWS data centers in regions around the globe. AWS has a shared responsibility with its customers, including Appian Cloud.
Learn more about the AWS controls for specific frameworks. Appian inherently leverages all AWS physical control.
Protecting Workers at Volkswagen Group of America, Inc.
Volkswagen Group of America, Inc., is using Appian's Workforce Safety solution to automate the process of helping manage the safe and healthy return of the majority of its U.S. workforce to the workplace in phases, and in accordance with local health conditions.
Volkswagen Group of America is the North American operational headquarters and a subsidiary of Volkswagen AG, one of the world's leading automobile manufacturers and the largest carmaker in Europe. The company has approximately 8,000 employees in the U.S. and sells its vehicles through a 1,000-strong dealer network.
Volkswagen needed a comprehensive mobile solution that could be up-and-running quickly and was easily configurable. Workforce Safety gives Volkswagen a fully integrated solution with a central command center to monitor the health and work status of its employees across all locations in real-time.
The solution's Mobile Pass feature uses fast, easy, and self-reported employee health screening to automatically and intelligently generate "safe to return" designations that are displayed on an employee's mobile device. Complete case management capabilities enable contact tracing and fast resolution of exceptions and appeals.
Volkswagen has had success with the Workforce Safety solution, and plans to upgrade to the latest version which includes vaccination tracking for employees.
Conclusion
Reopening is just the beginning. A unified command center can help you manage your COVID-19 response and keep employees safe, with real-time access to track health data, monitor incidents across facilities, automate return-to-work authorizations, track vaccination status, and manage company policies and government regulations.
Appian Workforce Safety is the only solution with a unified, automated, flexible approach for safely returning to onsite work. A single response hub supports contact tracing, incident case management, health monitoring, COVID-19 testing, vaccination tracking, and facility and visitor management.
We understand the COVID-19 situation is constantly evolving, which is why Workforce Safety is flexible enough to handle whatever comes next. It can be configured to serve any region's or industry's unique needs. In fact, it's already supporting financial services, higher education, retail, manufacturing, telecommunications, automotive, life sciences, insurance, and more companies around the world.
Learn more about Workforce Safety, or get started today via AWS Marketplace.
The content and opinions in this blog are those of the third-party author and AWS is not responsible for the content or accuracy of this post.
---
Appian – AWS Partner Spotlight
Appian is an AWS Competency Partner and leading provider of low-code automation software. Its unified solution helps organizations ensure a safe, smooth transition back to onsite work, while maintaining the privacy and security of employee health information.
Contact Appian | Partner Overview | AWS Marketplace
*Already worked with Appian? Rate the Partner
*To review an AWS Partner, you must be a customer that has worked with them directly on a project.