Personalize Your Customers' Experience with Easy-Access AWS AI Services
By Eliane Eisenring, Communication Manager – Trivadis – Part of Accenture
By Simon R. Böhmer, Associate Cloud Application Architect – AWS
By Markus Winterholer, Delivery Practice Manager – AWS
Trivadis
Artificial intelligence (AI) is among the most disruptive technologies of our generation. Whether it's used to drive innovation, reduce operational costs, increase efficiency, or improve customer experience—AI has completely changed the way business is made.
Thus, it comes as no surprise that companies increasingly seek to make use of this technology. In "The state of AI in 2021" study by McKinsey & Company, 56% of respondents reported AI adoption in at least one function, including service operations, product and service development, and marketing and sales. Specifically, the three most popular use cases were service-operations optimization, AI-based enhancement of products, and contact-center automation.
For small and medium-sized enterprises (SMEs), the implementation of AI functions has been challenging due to high costs and the necessary expertise. Moreover, not all AI projects succeed, and their failure often leads to financial loss and dissatisfaction within management.
For SMEs who do not have an unlimited budget at their disposal, such a failed attempt may mean the end of their AI journey. This is where artificial intelligence services from Amazon Web Services (AWS) come into play.
AWS AI services can serve as a kind of ready-made building block that enable companies of all sizes and sectors to gain experience and create their own AI services, without having to build the fundamental functions from the bottom up.
Via the cloud, companies can access AWS AI services and create their own chatbots, image analysis, or personalization tools, for example. To implement and customize these services, companies can draw on the expertise of Trivadis – Part of Accenture, an AWS Advanced Tier Services Partner and Swiss IT solution and service provider.
Implementing Customized AI Solutions
AWS Partners like Trivadis have the necessary technical expertise and vision for how AI can benefit a company's specific purpose in accordance with their strategy and long-term goals.
In particular, Trivadis's data science managers bring the following know-how:
Estimate the relevance of AI for an individual company. This is in regards to product, growth, and customer engagement.
Real examples of AI solutions. To see what has already been realized with AI helps research and development (R&D) teams develop their own ideas for applications and estimate where the use of this technology would be beneficial.
Manage expectations. They can show what is actually possible in terms of AI adoption for a specific company.
Specific path to integrate and use AI. Drawing on established methodologies, data science managers turn the vision of a meaningful AI integration into reality.
In order to implement a customized AI solution, Trivadis's data science managers apply the following methodology (illustrated in Figure 1 below):
Overview of Current Trends
In a first step, Trivadis holds an orientation workshop which gives an overview of the current trends surrounding AI and explains the connections, so the customer gets a clearer picture and an informed basis for further decision-making.
Assessment and Planning
The data science managers conduct a business analytics assessment. Thereby, the customer's existing data landscape is examined and appropriate tools and technologies to implement the new solution are evaluated. This enables the customer to better assess their current state, identify areas for action, and set the right priorities.
Build, Test, and Verify
Drawing on the insights gained during the assessment, Trivadis's data science team creates a proof of concept and roadmap within which they implement and verify workflows to help the customer focus on the right areas and optimally plan their available resources.
Scaling and Integration into the Ecosystem
Following all of these important preparations is the transition phase. The new solution is implemented at scale while being integrated into the existing ecosystem. This step is accompanied by trainings, in which Trivadis provides the customer's employees with the necessary know-how in individual training courses.
AI for a Data-Driven Business
Once the solution is successfully implemented, the data science managers further support the customers in operating and developing their new solution (monitoring and support), so they can focus on their core business.
Figure 1 – Implementation process of an AI solution.
Example: Amazon Personalize
Amazon Personalize enables developers to build applications with the same machine learning (ML) technology used by Amazon.com for real-time personalized recommendations.
Let's take the example of an online retailer. For them, AI services hold potential in the area of optimizing the customer experience by making personalized product recommendations. In fact, personalization increasingly becomes a necessity for any company, as 71% of consumers expect them to deliver personalized interactions.
Having been shown this current trend by the Trivadis team, an online retailer may decide they want to implement personalized recommendations on their website. To do so, the data science managers from Trivadis first assess the online retailer's starting situation, particularly their data landscape.
For personalization, the data needed includes:
User events (data about the activity of the users, views, signups, conversions).
Item metadata (data about the products, price point, category, style).
User metadata (location, age, gender).
After analyzing the customer's data, the data science managers choose and propose the right tools and technologies for the online retailer, depending on their already existing IT landscape, their resources, and requirements.
For the sake of this example, we assume the customer already has their data on the AWS Cloud and would like to leverage on the existing technologies within this platform to keep their landscape homogeneous.
One of the technologies that might suit such a scenario is Amazon Personalize, which provides various personalization features. Besides product recommendations, Personalize provides features to handle user cold starts, item cold starts, personalized rankings, related items, and popularity of items. AWS Lambda is used to process data at scale and send and receive user activity data and recommendations to and from Personalize. The product recommendations are forwarded to AWS Amplify as a full-stack web and mobile apps service running the online retailer's platform.
In our example, customization of these services to meet the specific requirements of the online retailer's, as well as analysis of the data and interpretation of the resulted models, can only be accomplished by expert data scientists. Therefore, in consultation with the online retailer, the data science managers of Trivadis provide a roadmap to implement their desired functionalities to fulfil customized demands utilizing the Personalize infrastructure.
During the proof of concept (PoC) phase, multiple models can be evaluated within Amazon Personalize which can also be used as a baseline for further customized developments. Once the desired essential model is verified, it's integrated into the existing ecosystem, while making sure the transition disrupts as few operations as possible.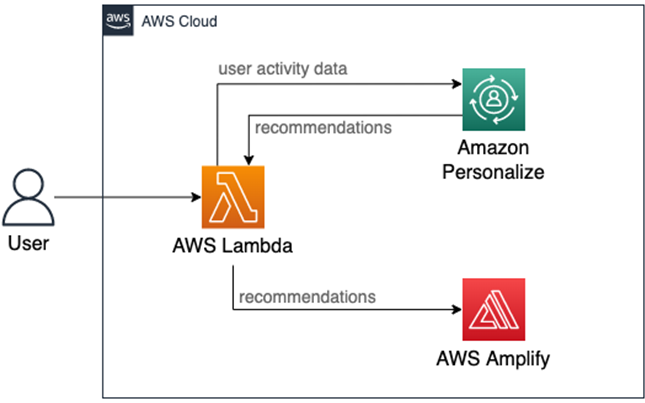 Figure 2 – Example architecture of an Amazon Personalize implementation.
After the integration, the online retailer's platform receives the results, and they can be used to create recommendations for the users. This can for example be done by adding a "Recommended for you" product row in the online shop.
Simultaneously to the transition, Trivadis trains the online retailer's employees how to operate and further adapt Amazon Personalize.
After the implementation has been completed, Trivadis continues to support the online retailer with the operation of the machine learning pipeline including Amazon Personalize.
Conclusion
The ability to make use of artificial intelligence is becoming increasingly important for businesses, not least small and medium-sized enterprises.
Thanks to AWS AI services, companies with limited means are now also able to use AI for their benefit. AWS Partners like Trivadis – Part of Accenture can help customers implement AI services, as their data science managers bring the necessary experience and expertise.
As the example in this post has shown, an online retailer might profit from the AWS AI service Amazon Personalize and the support of Trivadis in implementing and adapting it to their individual needs.
---
Trivadis – AWS Partner Spotlight
Trivadis is an AWS Partner and Swiss IT solution and service provider that combines design and methodological skills with extensive technical expertise.