AWS shows why physical stores matter more than ever at NRF 2023
After three years, Amazon Web Services (AWS) was extremely excited to return to NRF 2023! It was a great opportunity to engage with our customers and partners while also showcasing the many ways that AWS can help retailers accelerate innovation. As worldwide head of Physical & Frictionless Retail Solutions at AWS, I couldn't help but notice the tremendous focus on innovating in brick-and-mortar stores. In fact, I believe physical stores matter more than ever. Although ecommerce soared in popularity during the pandemic, physical stores still represent roughly 80 percent of all retail sales. This is because stores remain an experiential destination for shoppers to discover, research, see, touch, and buy products. To stay competitive, retailers must equip their stores with the systems and tools that help them elevate the in-store customer experience, operate more efficiently, and adapt with agility to changing market dynamics. Thankfully, AWS can help retailers through our Smart Store solutions.
AWS has prioritized Smart Stores with a renewed focus on how to help retailers in the physical space. With the launch of our new ebook coming soon, our strategic concentration highlights:
digital in the store: convenient, omnichannel digital experiences in physical stores;
in-store operations: improved workforce productivity and process automation; and
checkout experience: automated and self-checkout solutions.
Let's dive into how AWS highlighted these themes at NRF.
Merging the digital and physical worlds
Retailers tell us that their consumers still want to use many of the digital, mobile, self-service, and contactless technologies they adopted during the pandemic. This points to a need to deliver convenient, omnichannel digital experiences in physical stores, where it's estimated that 70 percent of future retail sales will likely be "digitally influenced." As stores become the hub of omnichannel commerce, retailers will need to operate more efficiently and proactively. Receiving, stocking, pricing, selling, fulfilling, and maintaining the store are just a few areas where retailers can reduce manual processes with Smart Store technologies.
At NRF, we highlighted many of these capabilities and successes. US pet store chain Petco shared how it fulfilled customer needs quickly and conveniently during the pandemic by developing a curbside pickup service that it deployed in just six weeks alongside AWS Retail Competency Partner JBS Solutions Inc. (JBS). Petco's new mobile app offering was built using AWS Lambda, a serverless, event-driven compute service, and Amazon DynamoDB, a fast, flexible NoSQL database service. The app provided a raft of personalized services, increased operational efficiency, improved consumer experience, and reduced costs overall.
When it comes to understanding the power of store analytics, we showcased our capabilities with AWS Panorama, an edge computer vision solution that is expected to increase insights and analytics capabilities inside the store. Although most retailers can see and monitor the entire consumer journey on their ecommerce website—including entry, consideration, basket, and purchase—they often lack the ability to capture these same insights in their physical stores. This is where AWS Panorama can help. When it's fully deployed, retailers can benefit from an array of analytics, as the Canadian retailer Parkland realized after rolling out the solution at its Phillips 66 branded stores. These included automated "heat maps" to track in-store behavior and parking lot vehicle volume and license plate analysis to better manage customer traffic.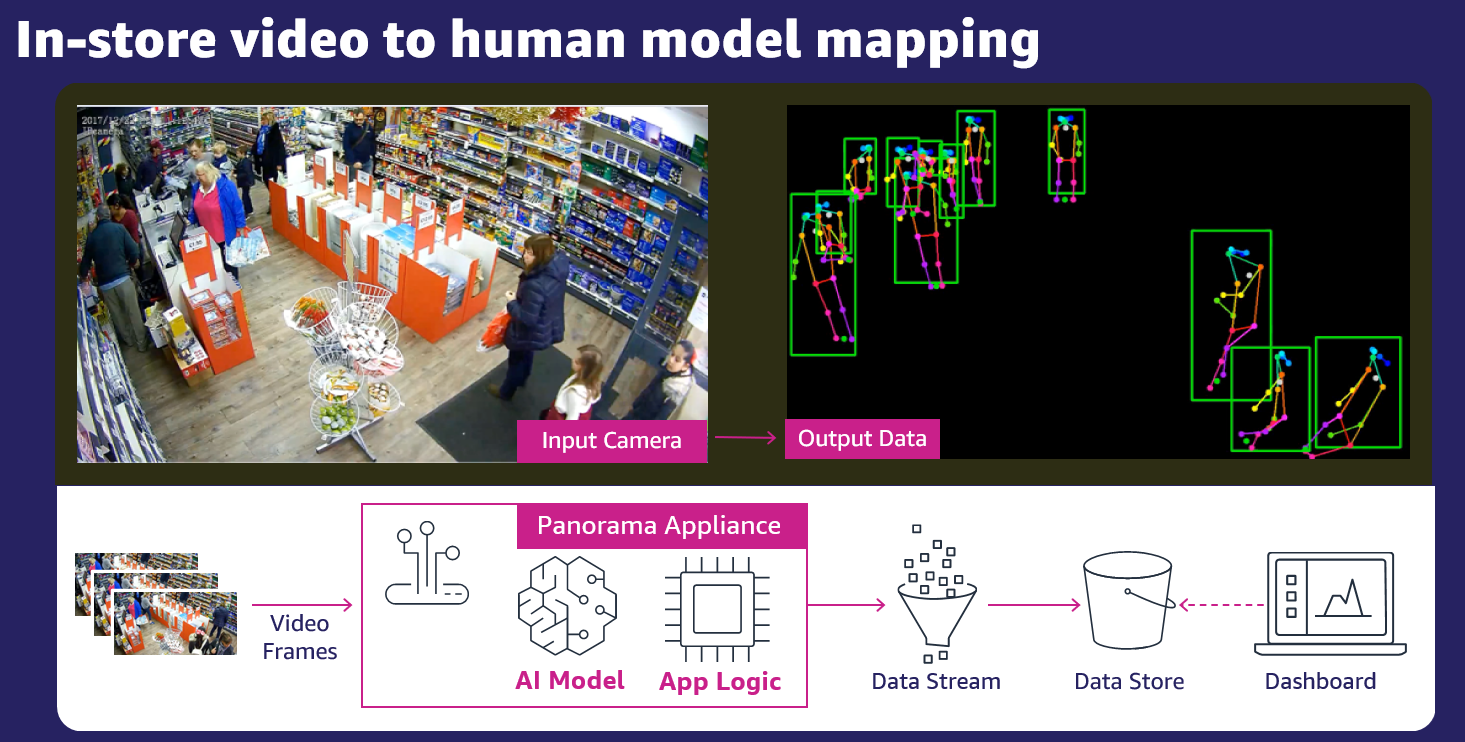 Optimizing in-store operations
Day in and day out, retailers tackle a slew of operational activities that are needed to keep stores running at maximum efficiency and keep customers coming back. From edge computing and new in-store fulfillment options to loss prevention, workforce management solutions, and more, new Smart Store solutions are empowering retailers to handle the most complex store operations with modern cloud technologies.
At NRF, I couldn't help but notice a major focus on workforce management, mainly because retailers today are struggling with labor turnover, higher labor costs, and worker burnout. And when you consider that 76 percent of retail workers think that adopting digital processes would boost their productivity and engagement, you can see why retailers are investing in this space. During one of our AWS Tech Talks, AWS Retail Competency Partner Qudini highlighted how its Retail Choreography suite, powered by AWS, helps retailers and banks orchestrate great retail experiences and streamline their store operations with cloud-based solutions for appointment scheduling, event booking, task management, and walk-in virtual queuing.
To help retailers in managing their in-store inventory as well as their fulfillment needs, we provided a demonstration of Amazon Forecast, a fully managed service that uses statistical and machine learning (ML) algorithms to deliver accurate time-series forecasts. The cloud-based system's artificial intelligence/ML data science and learning algorithms outperform traditional methods of demand forecasting, resulting in higher levels of accuracy, improved stock levels, and lower food waste.
Checking out seamlessly
It's estimated that, over the past year, 86 percent of US consumers have abandoned purchases because of long wait times in lines, leading to more than $38 billion in lost sales. That might explain why 85 percent of shoppers in a recent survey rate the checkout experience as both "very important" or "important," and yet only 23 percent of shoppers are satisfied with it. To fix this problem, retailers are assessing and launching a variety of new checkout solutions, such as self-checkout, "scan and go," home delivery, and "click and collect." With solutions like these, consumers benefit from a more convenient and satisfying shopping experience and retailers can increase in-store productivity by reassigning staff to handle high-value interactions and tasks, which further improves the customer experience.
At NRF, we provided demonstrations of our Just Walk Out (checkout-free), Dash Cart (smart shopping cart), and Amazon One (contactless identity service) technologies. Each in its own right helps retailers deliver a convenient and seamless shopping experience. We saw high interest from retailers across all three technologies, particularly for Amazon One because of its application to payment, loyalty, age verification, and other use cases.
As mentioned previously, these technologies are not the only ones capable of improving the checkout experience. While meeting with our customers, I was able to highlight how UK grocer Sainsbury's used AWS services to launch a scan-and-go mobile app that lets customers scan their items, pay, and skip the checkout queue. The company's SmartShop app is expected to increase basket spend, relieve customers of long checkouts, and offer a channel for promoting in-store deals. Furthermore, we highlighted how AWS can help customers reimagine the checkout experience through AWS Internet of Things (IoT) technologies. For example, an innovative store in Seoul teamed alongside AWS to launch a completely "staffless" store called the Uncommon Store, run by Hyundai. The store's frictionless checkout system uses AWS IoT Core to manage IoT device data at the store and Amazon Kinesis Video Streams to manage video streams.
We're excited about the future of physical retail and believe the time is now to reimagine the physical store experience. When you add intelligence to your stores, you'll reap the benefits of happier customers and increased sales. Find out how AWS and our extensive industry partner network can support your retail transformation. Learn more at aws.amazon.com/retail and contact AWS today to get started.