Win a digital car and personalize your racer profile on the AWS DeepRacer console
AWS DeepRacer is the fastest way to get rolling with machine learning, giving developers the chance to learn ML hands-on with a 1/18th scale autonomous car, 3D virtual racing simulator, and the world's largest global autonomous car racing league. With the 2021 AWS DeepRacer League Virtual Circuit now underway, developers have five times more opportunities to win physical prizes, such as exclusive AWS DeepRacer merchandise, AWS DeepRacer Evo devices, and even an expenses paid trip to AWS re:Invent 2021 to compete in the AWS DeepRacer Championship Cup.
To win physical prizes, show us your skills by racing in one of the AWS monthly qualifiers, becoming a Pro by finishing in the top 10% of an Open race leaderboard, or qualifying for the championship by winning a monthly Pro division finale. To make ML more fun and accessible to every developer, the AWS DeepRacer League is taking prizing a step further and introducing new digital car customizations for every participant in the league. For each month that you participate, you'll earn a reward exclusive to that race and division. After all, if your ML model is getting rewarded, shouldn't you get rewarded too?
Digital rewards: Collect them all and showcase your collection
Digital rewards are unique cars, paint jobs, and body kits that are stored in a new section of the AWS DeepRacer console: your racer profile. Unlocking a new reward is like giving your model the West Coast Customs car treatment. While X to the Z might be famous for kitting out your ride in the streets, A to the Z is here to hook you up in the virtual simulator!
No two rewards are exactly alike, and each month will introduce new rewards to be earned in each racing division to add to your collection. You'll need to race every month to collect all of the open division digital rewards in your profile. If you advance to the Pro division, you'll unlock twice the rewards, with an additional Pro division reward each month that's only available to the fastest in the league.
If you participated in the March 2021 races, you'll see some special deliveries dropping into your racer profile starting today. Open division racers will receive the white box van, and Pro division racers will receive both the white box van and the Pro Exclusive AWS DeepRacer Van. Despite their size, they're just as fast as any other vehicle you race on the console—they're merely skins and don't change the agent's capabilities or performance.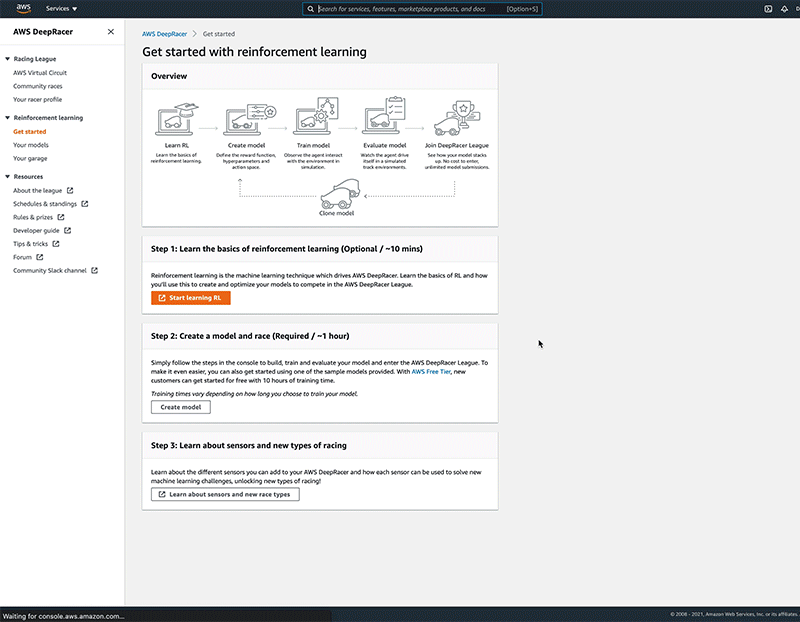 But that's not all—AWS DeepRacer will keep the rewards coming with surprise limited edition rewards throughout the season for specific racing achievements and milestones. But you'll have to keep racing to find them! When it's time to celebrate, the confetti will fall! The next time you log in and access your racer profile, you'll see the celebration to commemorate your achievement. After a new digital reward is added to your racer profile, you can choose the reward to open your garage and start personalizing your car and action space, or assign it to any existing model in your garage using the Mod vehicle feature.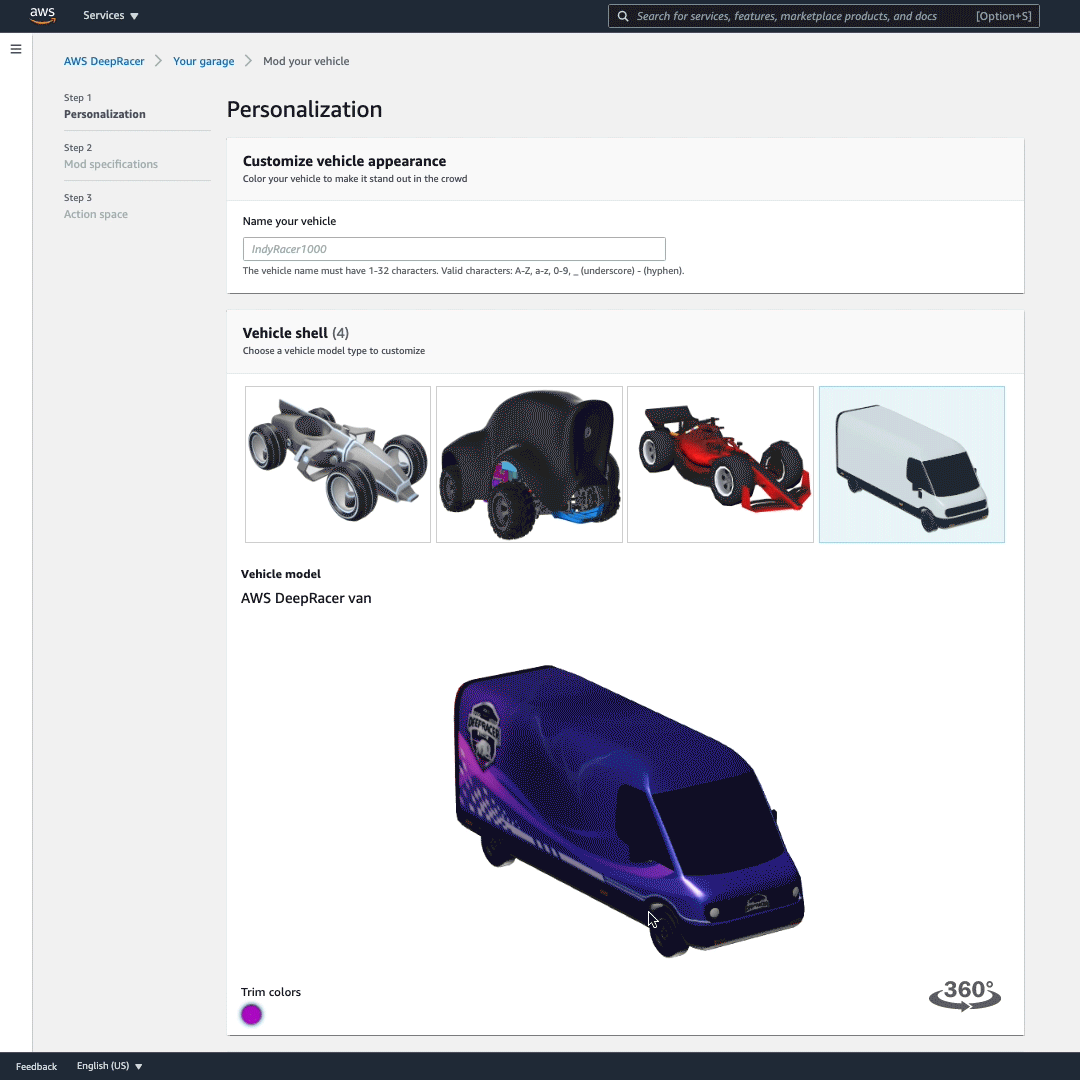 When you select that model to race in the league, you'll see your customized vehicle in your race evaluation video. You can also head over to the race leaderboard to watch other racer's evaluations and check out which customizations they're using for their models to size up the competition.

Customize your racer profile and avatar
While new digital rewards allow you to customize your car on the track, the new Your racer profile page allows you to customize your personal appearance across the AWS DeepRacer console. With the new avatar tool, you can select from a variety of options to replicate your real-life style or try out a completely new appearance to showcase your personality. Your racer profile also allows you to designate your country, which adds a flag to your avatar and in-console live races, giving you the opportunity to represent your region and see where other competitors are racing from all over the globe.
Your avatar appears on each race leaderboard page for you to see, and if you're on top of the leaderboard, everyone can see your avatar in first position, claiming victory! If you qualify to participate in a live race such as the monthly Pro division finale, your avatar is also featured each time you're on the track. In addition to housing the avatar tool and your digital rewards, the Your racer profile page also provides useful stats such as your division, the number of races you have won, and how long you have been racing in the AWS DeepRacer League.
Get rolling today
The April 2021 races are just getting underway in the Virtual Circuit. Head over to the AWS DeepRacer League today to get rolling, or sign in to the AWS DeepRacer console to start customizing your avatar and collecting digital rewards!
To see the new avatars in action, tune into the AWS DeepRacer League LIVE Pro Finale at 5:30pm PST, the second Thursday of every month on the AWS Twitch channel. The first race will take place on April 8th.
---
About the Author
Joe Fontaine is the Marketing Program Manager for AWS AI/ML Developer Devices. He is passionate about making machine learning more accessible to all through hands-on educational experiences. Outside of work he enjoys freeride mountain biking, aerial cinematography, and exploring the wilderness with his dogs. He is proud to be a recent inductee to the "rad dads" club.