AWS Educate secondary school content now available in six languages
The Clou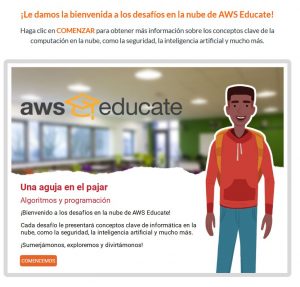 d Inventor and Cloud Explorer courses of AWS Educate, built for students aged 14-18*, are now available in five additional languages: French, German, Spanish, Portuguese, and Italian. With the addition of these languages, more students than ever have access to content that will introduce them to cloud-based concepts and technologies.
With AWS Educate, students can start their cloud journey and learn about the tech concepts behind things like building and sharing games online, or expand their knowledge with more in-depth challenges on concepts like variables and big data. Students can build in the cloud with hands-on activities in the AWS Console. Each course includes content delivered in self-paced course modules that are designed to introduce core cloud-concepts, such as: Cybersecurity, Online Data Privacy, Software Development, Building in the Cloud and more.
Students and educators in more than 200 countries and territories have already adopted AWS Educate, with many adopting the program's Cloud Career Pathways into their curricula.
Get started with AWS Educate today.
*Age and Parent/Guardian Consent Requirements. You must be the minimum age below based on the country in which you are located. ALSO, IF YOU ARE UNDER THE AGE OF 18, YOU AGREE THAT (A) YOU SHOWED YOUR PARENT(S) OR GUARDIAN(S) THIS AGREEMENT; AND (B) YOU RECEIVED THEIR PERMISSION TO AGREE TO THIS AGREEMENT, PARTICIPATE IN THE PROGRAM, AND SUBMIT YOUR PERSONAL INFORMATION TO AWS.
| | |
| --- | --- |
| COUNTRY | MINIMUM AGE |
| United States | 14 |
| China, Switzerland, and all countries in the European Economic Area (excluding Portugal) | 16 |
| Algeria, Lebanon, and Portugal | 18 |
| All other countries | 14 |