Get to know the latest AWS Heroes, including the first IoT Heroes!
The AWS Heroes program recognizes and honors individuals who are prominent leaders in local communities, known for sharing AWS knowledge and facilitating peer-to-peer learning in a variety of ways. The AWS Heroes program grows just as the enthusiasm for all things AWS grows in communities around the world, and there are now AWS Heroes in 35 countries.
Today we are thrilled to introduce the newest AWS Heroes, including the first Heroes in Bosnia, Indonesia, Nigeria, and Sweden, as well as the first IoT Heroes:
Joshua Arvin Lat – National Capital Region, Philippines
Machine Learning Hero Joshua Arvin Lat is the CTO of Complete Business Online, Insites, and Jepto. He has achieved 9 AWS Certifications, and has participated and contributed as a certification Subject Matter Expert to help update the AWS Certified Machine Learning – Specialty exam during the Item Development Workshops. He has been serving as one of the core leaders of the AWS User Group Philippines for the past 4-5 years and also shares knowledge at several international AWS conferences and including AWS Summit Singapore – TechFest, and AWS Community Day – Melbourne.
Nofar Asselman – Tel Aviv, Israel
Community Hero Nofar Asselman is the Head of Business Development at Epsagon – an automated tracing platform for cloud microservices, where she initiated Epsagon's partnership with AWS. Nofar is a key figure at the AWS Partner Community and founded the first-ever AWS Partners Meetup Group. Nofar is passionate about her work with AWS cloud communities, organizes meetups regularly, and participates in conferences, events and user groups. She loves sharing insights and best practices about her AWS experiences in blog posts on Medium.
Filipe Barretto – Rio de Janeiro, Brazil
Community Hero Filipe Barretto is one of the founders of Solvimm, an AWS Consulting Partner since 2013. He organizes the AWS User Group in Rio de Janeiro, Brazil, promoting talks, hands-on labs and study groups for AWS Certifications. He also frequently speaks at universities, introducing students to Cloud Computing and AWS services. He actively participates in other AWS User Groups in Brazil, working to build a strong and bigger community in the country, and, when possible, with AWS User Groups in other Latin American countries.
Stephen Borsay – Portland, USA
IoT Hero Stephen Borsay is a Degreed Computer Engineer and electronic hobbyist with a passion to make IoT and embedded systems understandable and enjoyable to enthusiasts of all experience levels. Stephen authors community IoT projects, as well as develops online teaching materials focused on AWS IoT to solve problems for both professional developers and casual IoT enthusiasts. He founded the Digital Design meetup group in Portland, Oregon which holds regular meetings focusing on hands-on IoT training. He regularly posts IoT tutorials for Hackster.io and you can find his online AWS IoT training courses on YouTube and Udemy.
Ernest Chiang – Taipei City, Taiwan
Community Hero Ernest Chiang, also known as Deng-Wei Chiang, started his AWS journey in 2008. He has been passionate about bridging AWS technology with business through AWS related presentations at local meet-ups, conferences, and online blog posts. Since 2011, many AWS services have been adopted, across AWS Global and China regions, under Ernest's leadership as the Director of Product & Technology Integration of PAFERS Tech.
Don Coleman – Philadelphia, USA
IoT Hero Don Coleman is the Chief Innovation Officer at Chariot Solutions, where he builds software that leverages a wide range of AWS services. His experience building IoT projects enables him to share knowledge and lead workshops on solving IoT challenges using AWS. He also enjoys speaking at conferences about devices and technology, discussing things like NFC, Bluetooth Low Energy, LoRaWAN, and AWS IoT.
Ken Collins – Norfolk, USA
Serverless Hero Ken Collins is a Staff Engineer at Custom Ink, focusing on DevOps and their Ecommerce Platform with an emphasis on emerging opportunities. With a love for the Ruby programming language and serverless, Ken continues his open source Rails work by focusing on using Rails with AWS Lambda using a Ruby gem called Lamby. Recently he wrote an ActiveRecord adapter to take advantage of Aurora Serverless with Rails on Lambda.
Ewere Diagboya – Lagos, Nigeria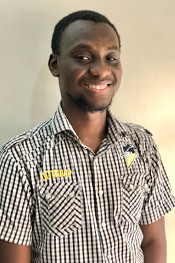 Community Hero Ewere Diagboya started building desktop and web apps using PHP and VB as a software engineer in junior high school. He started his Cloud journey with AWS at Terragon Group, where he grew into the DevOps and Infrastructure Lead. Later he collaborated to speak at the first ever AWS Nigeria Meetup and was the only Nigerian representative at AWS Johannesburg Loft in 2019. He is the co-founder of DevOps Nigeria, shares videos on YouTube showcasing AWS technologies, and has a blog on Medium, called MyCloudSeries.
Dzenan Dzevlan – Mostar, Bosnia and Herzegovina
Community Hero Dzenan Dzevlan is a Cloud and DevOps expert at TN-TECH and has been an AWS user since 2011. In 2016, Dzenan founded AWS User Group Bosnia and helped it grow to three user groups with more than 600 members. This AWS community is now the largest IT community in Bosnia. As a part of his activities, he runs online meetups, a YouTube channel, and the sqlheisenberg.com blog (in Bosnian language) to help people in the Balkans region achieve their AWS certification and start working with AWS.
Ben Ellerby – London, United Kingdom
Serverless Hero Ben Ellerby is VP of Engineering for Theodo and a dedicated member of the Serverless community. He is the editor of Serverless Transformation: a blog, newsletter & podcast sharing tools, techniques and use cases for all things Serverless. Ben speaks about serverless at conferences and events around the world. In addition to speaking, he co-organizes and supports serverless events including the Serverless User Group in London and ServerlessDays London.
Gunnar Grosch – Karlstad, Sweden
Serverless Hero Gunnar Grosch is an evangelist at Opsio based in Sweden. With a focus on building reliable and robust serverless applications, Gunnar has been one of the driving forces in creating techniques and tools for using chaos engineering in serverless. He regularly and passionately speaks at events on these and other serverless topics around the world. Gunnar is also deeply involved in the community by organizing AWS User Groups and Serverless Meetups in the Nordics, as well as being an organizer of ServerlessDays Stockholm and AWS Community Day Nordics. A variety of his contributions can be found on his personal website.
Scott Liao – New Taipei City, Taiwan
Community Hero Scott Liao is a DevOps Engineer and Manager at 104 Corp. His work is predominantly focused on Data Center and AWS Cloud solution architecture. He is interested in building hyper-scale DevOps environments for containers using AWS CloudFormation, CDK, Terraform, and various open-source tools. Scott has spoken regularly as AWS-focused events including AWS User Groups, Cloud Edge Summit Taipei, DevOpsDays Taipei, and other conferences. He also shares his expertise to writing, by producing written content for blogs and IT magazines in Taiwan.
Austin Loveless – Denver, USA
Community Hero Austin Loveless is a Cloud Architect at Photobucket and Founder of the AWSMeetupGroup. He travels around the country, teaching people of all skill levels about AWS Cloud Technologies. He live-streams all his events on YouTube. He partners with large software companies (AWS, MongoDB, Confluent, Galvanize, Flatiron School) to help grow the meetup group and teach more people. Austin also routinely blogs on Medium under the handle AWSMeetupGroup.
Efi Merdler-Kravitz – Tel Aviv, Israel
Serverless Hero Efi Merdler-Kravitz is Director of Engineering at Lumigo.io, a monitoring and debugging platform for AWS serverless applications built on a 100% serverless backend. As an early and enthusiastic adopter of serverless technology, Efi has been racking up the air miles as a frequent speaker at serverless events around the globe, and writes regularly on the topic for the Lumigo blog. Efi began on his journey into serverless as head of engineering at Coneuron, building its entire stack on Lambda, S3, API Gateway, and Firebase, while perfecting the art of helping developers transition to a serverless mindset.
Dhaval Nagar – Surat, India
Serverless Hero Dhaval Nagar is the founder and director of cloud consulting firm AppGambit based in India. He thinks that serverless is not just another method but a big paradigm shift in modern computing that will have a major impact on future technologies. Dhaval has been building on AWS since early 2015. Coincidentally, the first service that he picked on AWS was Lambda. He has 11 AWS Certifications, is a regular speaker at AWS user groups and conferences, and frequently writes on his Medium blog. He runs the Surat AWS User Group and Serverless Group and has organized over 20 meetups since it started in 2018.
Tomasz Ptak – London, United Kingdom
Machine Learning Hero Tomasz Ptak is a software engineer with a focus on tackling technical debt, transforming legacy products to maintainable projects and delivering a Developer experience that enables teams to achieve their objectives. He was a participant in the AWS DeepRacer League, a winner in Virtual League's September race and a 2019 season finalist. He joined the AWS DeepRacer Community on day one to become one of its leaders. He runs the community blog, the knowledge base and maintains a DeepRacer log analysis tool.
Mike Rahmati – Sydney, Australia
Community Hero Mike Rahmati is Co-Founder and CTO of Cloud Conformity (acquired by Trend Micro), a leader in public cloud infrastructure security and compliance monitoring, where he helps organizations design and build cloud solutions that are Well-Architected at all times. As an active community member, Mike has designed thousands of best practices for AWS, and contributed to a number of open source AWS projects including Cloud Conformity Auto Remediation using AWS Serverless.
Namrata Shah (Nam) – New York, USA
Community Hero Nam Shah is a dynamic passionate technical leader based in the New York/New Jersey Area focused on custom application development and cloud architecture. She has over twenty years of professional information technology consulting experience delivering complex systems. Nam loves to share her technical knowledge and frequently posts AWS videos on her YouTube Channel and occasionally posts AWS courses on Udemy.
Yan So – Seoul, South Korea
Machine Learning Hero Yan So is a senior data scientist who possesses a variety of experience dealing with business issues by utilizing big data and machine learning. He was a co-founder of the Data Science Group of the AWS Korea Usergroup (AWSKRUG) and hosted over 30 meetups and AI/ML hands-on labs since 2017. He regularly speaks on interesting topics such as Amazon SageMaker GroundTruth on AWS Community Day, Zigzag's Data Analytics Platform at the AWS Summit Seoul, and a recommendation engine on Amazon Personalize in AWS Retail & CPG Day 2019.

Steve Teo – Singapore
Community Hero Steve Teo has been serving the AWS User Group Singapore Community since 2017, which has over 5000 members. Having benefited from Meetups at the start of his career, he makes it his personal mission to pay it forward and build the community so that others might reap the benefits and contribute back. The community in Singapore has grown to have monthly meetups and now includes sub-chapters such as the Enterprise User Group, as well as Cloud Seeders, a member-centric Cloud Learning Community for Women, Built by Women. Steve also serves as a speaker in AWS APAC Community Conferences, where he shares on his Speakerdeck.

Hein Tibosch – Bali, Indonesia
IoT Hero Hein Tibosch is a skilled software developer, specializing in embedded applications and working as an independent at his craft for over 17 years. Hein is exemplary in his community contributions for FreeRTOS, as an active committer to the FreeRTOS project and the most active customer on the FreeRTOS Community Forums. Over the last 8 years, Hein's contributions to FreeRTOS have made a significant impact on the successful adoption of FreeRTOS by embedded developers of all technical levels and backgrounds.


You can learn all about the AWS Heroes and connect with a Hero near you by visiting the AWS Hero website.
— Ross;