New – HIPAA Eligibility for AWS Snowball
Many of the tools and technologies now in use at your local doctor, dentist, hospital, or other healthcare provider generate massive amounts of sensitive digital data. Other prolific data generators include genomic sequencers and any number of activity and fitness trackers. We all want to benefit from the insights that can be produced by this "data tsunami," but we also want to be confident that it will be stored in a protected fashion and processed in a responsible manner.
In the United States, protection of healthcare data is governed by HIPAA (the Health Insurance Portability and Accountability Act). Because many AWS customers would like to store and process sensitive health care data on the cloud, we have worked to make multiple AWS services HIPAA-eligible; this means that the services can be used to process Protected Health Information (PHI) and to build applications that are HIPAA-compliant (read HIPAA in the Cloud to learn more about what Cleveland Clinic, Orion Health, Eliza, Philips, and other AWS customers are doing).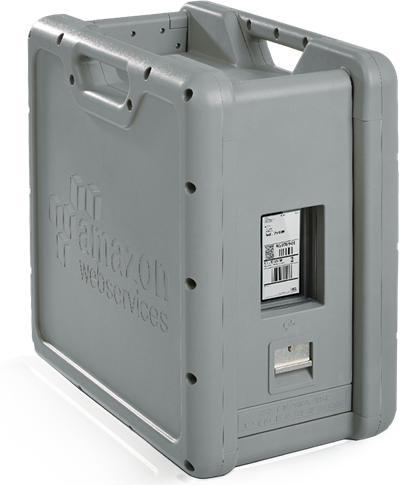 Last year I introduced you to AWS Snowball. This is an AWS-owned storage appliance that you can use to move large amounts of data (generally 10 terabytes or more) to AWS on a one-time or recurring basis. You simply request a Snowball from the AWS Management Console, connect it to your network when it arrives, copy your data to it, and then send it back to us so that we can copy the data to the AWS storage service of your choice. Snowball encrypts your data using keys that you specify and control.
Today, I am happy to announce that we are adding Snowball to the list of HIPAA-eligible services, joining Amazon DynamoDB, Amazon Elastic Compute Cloud (Amazon EC2), Amazon Elastic Block Store (Amazon EBS), Elastic Load Balancing, Amazon EMR, Amazon Glacier, Amazon Relational Database Service (RDS) (MySQL and Oracle), Amazon Redshift, and Amazon Simple Storage Service (Amazon S3). This brings the total number of eligible services to 10 and represents our commitment to make the AWS Cloud a safe, secure, and reliable destination for PHI and many other types of sensitive data. If you already have a Business Associate Agreement (BAA) with AWS, you can begin using Snowball to transfer data into your HIPAA accounts immediately.
With Snowball now on the list of HIPAA-eligible services, AWS customers in the Healthcare and Life Sciences space can quickly move on-premises data to Snowball and then process it using any of the services that I just mentioned. For example, they can use the new HDFS Import feature to migrate an existing on-premises Hadoop cluster to the cloud and analyze it using a scalable EMR cluster. They can also move existing petabyte-scale data (medical images, patient records, and the like) to AWS and store it in S3 or Glacier, both already HIPAA-eligible. These services are proven, easy to use, and offer high data durability at low cost.
— Jeff;