Enhancing AWS Partner Central to Deliver a Simple, Personalized, and Value-Driven Experience
"AWS Partner Experience Transformation" is a blog series on updates to the AWS Partner Programs, AWS Marketplace, and Partner Central.
By Priya Bains, Head of Partner Brand and Content Strategy – AWS Partner Network
We're excited to announce self-service enhancements and automations to AWS Partner Central to help you drive efficiencies, use data insights, and reach new customers with AWS Marketplace integration.
Customers are increasingly purchasing software and services in AWS Marketplace to take advantage of added efficiencies, cost savings, and flexible payment and terms. Our mission is to make AWS Marketplace your preferred route-to-market to help you capitalize on this opportunity and access millions of Amazon Web Services (AWS) customers.
In our AWS Partner experience transformation roadmap shared in July, we committed to providing a more seamless experience across AWS Marketplace and Partner Central to help you accelerate sales.
To achieve this, we're investing in a simple, personalized, and value-driven experience to accelerate your engagement with AWS—whether you're looking to build a solution, go to market, or co-sell with AWS.
This post includes key enhancements we've made to the Partner Central experience, including a self-guided partner journey with automated tasks, functionality to align your offerings with customer opportunities, and link your account and product with AWS Marketplace, a new co-sell experience with APN Customer Engagements (ACE), and an enhanced search and content navigation.
A Self-Guided Experience with Automated Tasks
First, we're launching a self-guided Partner Central experience with automated tasks to accelerate your engagement with AWS. You'll receive prescriptive guidance with tasks and next best actions customized based on the information collected during registration and onboarding.
Automation of tasks saves you and your teams time from having to guess or seek guidance on how to progress your AWS journey. It also provides administrative time savings to our partner management teams, freeing them to provide more strategic support to you.
For AWS Partners enrolled in the Software Path, automated tasks will guide you through partner programs to help you build, market, sell, and grow your software offerings. You can also connect your software offering in Partner Central with AWS Marketplace product listing—allowing you to utilize your AWS Marketplace transactions to unlock additional program benefits.
Going forward, you'll know exactly where to start and what resources to utilize. We're rolling out this experience to partners in the Software Path and ISV program starting in November. The same features, benefits, and tools will be expanded to additional Partner Paths and programs in 2024.
Figure 1 – Software Path automated tasks.
Partner Offerings Aligned to Customer Opportunity
Second, we're focused on scaling your offerings in Partner Central to recommend the right solutions and partners to customers. Based on partner feedback, we've learned that the more we understand your offerings at a granular level, the better we can support you to develop your business, drive engagement and discoverability with AWS sales teams and customers, and create an AWS Marketplace listing.
The enhanced Partner Central experience provides step-by-step guidance to create, update, and manage your offerings. We will seek information up front about your offerings, customer solutions, and opportunities to provide relevant guidance, the best suited benefits, people, program, tools, and co-sell support to accelerate your sales.
As we get to know your offerings better, we'll support your journey with next best steps and benefits to progress through the AWS Partner Profitability Framework growth motions of Build, Market, Sell, and Grow.
Account and Product Linking Across AWS Marketplace and Partner Central
Third, we're providing a seamless experience across Partner Central and AWS Marketplace—starting from registration, onboarding, and setting up an AWS Marketplace profile to creating a product listing and go-to-market readiness.
New and existing partners and AWS Marketplace Sellers can now connect their Partner Central and AWS Marketplace accounts and associated users. Linking Partner Central and AWS Marketplace account enables AWS Marketplace data integration and insights into the Partner Analytics Dashboard, enabling you to obtain partner program benefits.

Once connected, Partner Central users can navigate to AWS Marketplace management portal and connect their offerings in Partner Central with their AWS Marketplace product listing. This feature allows partners to connect multiple AWS Marketplace product listings to a specific software offering on Partner Central. Product linking is available to partners with software offerings only.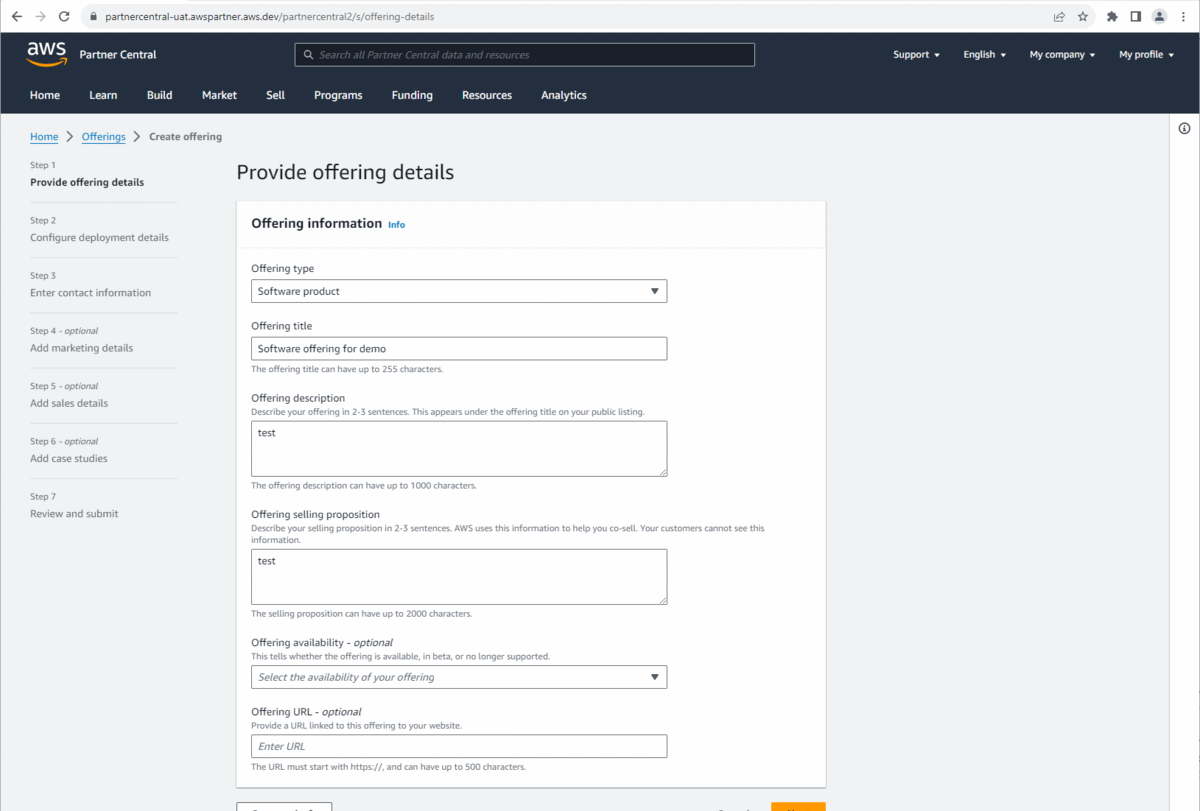 Figure 2 – Connect offerings to AWS Marketplace product listing.
New Co-sell Experience Through APN Customer Engagements (ACE)
Fourth, to help you drive successful customer engagements, we're introducing a new co-sell experience with differentiated workflows for opportunities.
The new ACE Pipeline Manager experience enables us to move away from "one-size-fits-all" approach of co-selling and provides a curated experience depending on your co-sell needs. It provides flexibility to prioritize opportunities where AWS sales support is needed, gives you better insight on net new engagements or expansions, and helps you safeguard customer information on National Security deals. Your ACE pipeline is now integrated with AWS Marketplace Private Offers, providing you with insights on your overall pipeline with AWS.
This new experience also provides parity across the partner referral and AWS referral experience by standardizing the information captured and the validation process. Tag your offerings and improve discoverability with AWS sales—bringing parity with AWS first-party services. Visibility to partner offerings for specific customer problems enables AWS sales to effectively collaborate with our mutual customers. We'll also provide prescriptive next best action recommendations and guidance for pipeline progression on your customer engagements.
Figure 3 – ACE Pipeline Manager experience.
Additionally, we've also implemented AWS Marketplace engagement score and AWS Marketplace Private Offer integration (for AWS Marketplace Sellers only). Partners are now able to prioritize efforts for higher conversion rates and drive an integrated experience for program benefits like participation in ISV Accelerate.
The new enhanced co-sell experience and unified motion across Partner Central and AWS Marketplace can now be accessed and leveraged both from within the ACE user interface and through CRM integration. We aim to provide partners with multiple choices to best meet their needs, whether it's through AWS-built connectors or third-party tools like Labra, Workspan, and Tackle.
Enhanced Search and Content Navigation Experience
Last but not the least, we're continuing to add functionality to help you easily find what you're looking for and further simplify your Partner Central experience. We've enhanced our search functionality allowing you to search across all Partner Central pages, and content (previously only available by page). You can also find curated news and events from AWS on the Partner Central home page.
We're working to move more of our resources and enablement materials into a new dynamic web-based experience under the "Resources" tab in Partner Central to help you easily navigate and consume content based on your business needs. No matter what you're looking for, we'll help you find it.
Get Started
To maximize your Partner Central experience, now is a good time to ensure your offerings details and business profile is up-to-date so we can recommend tasks and next best steps based on your information. Keeping your account up-to-date ensures the most relevant information is populated on your dashboards for AWS sales teams to prioritize support.
We're excited about these enhancements to unify the AWS Marketplace and Partner Central experience. As we continue to transform the experience, we'll make improvements that help drive higher value exchange.
Enhancing Partner Central is just the beginning of the next phase of our journey together.
Learn More
Log in to AWS Partner Central to make the most of your partner journey.
Don't have an AWS Partner Central account? Join the AWS Partner Network to build, market, sell, and grow with AWS.
Stay tuned for more updates via the "AWS Partner Experience Transformation" blog series. Additionally, check out the latest enhancements to AWS Marketplace, APN programs, and Partner Central in our What's New posts.