Make Intelligent Business Decisions Faster and Accelerate SAP Cloud Transformation with AWS and Accenture
By Steve Delien, Chief Technology Architect at Accenture
By Jonathan Steinert, Associate Director at Accenture
By Kenny Rajan and Marius Batrinu, Solution Architects at AWS
By RJ Bibby Sr. Partner Manager at AWS
Running SAP on the cloud can help customers reduce total cost of ownership (TCO), increase agility, and create a competitive advantage out of SAP systems and data.
To capitalize on these benefits, organizations need a cloud provider and migration partner that can help them migrate quickly and reliably. Once running on the cloud, customers also need expertise and tooling to help them combine SAP and non-SAP data to create a single source of truth and enhance decision making.
In this post, we'll walk through how Amazon Web Services (AWS) and AWS Premier Consulting Partner Accenture are helping customers in both areas. Specifically, we'll explain how Accenture's Cloud Migration Factory, Data Lake Accelerator, and Cloud Suite help customers more effectively achieve their SAP strategies on AWS.
First, let's take a brief look at AWS and Accenture's history of collaboration.
AWS and Accenture's History of Collaboration
For over a decade, AWS and Accenture have worked together to help SAP customers create new value from their applications and data. In 2015, the two companies launched the Accenture AWS Business Group, or AABG, to formalize these efforts and help customers accelerate cloud transformation and innovation.
The group consists of more than 8,000 AWS-trained technologists and over 20 AWS Competency and AWS Service Delivery designations, allowing AAGB to offer end-to-end technical expertise and capabilities, from strategy and ideation to migration and operations.
Earlier this year, AWS and Accenture broadened their partnership through the AWS Migration Acceleration Program (MAP) for SAP.
Accenture participates in AWS MAP for SAP given their experience helping customers streamline the move to the cloud via their Cloud Migration Factory, an aggregate of highly specialized teams, solution accelerators, and automated migration tools that help organizations successfully migrate to AWS.
Through AWS MAP for SAP, customers can also receive incentives that help offset the costs of migration.
Working Together to Drive Migration Repeatability
AWS and Accenture understand that each migration is unique and needs to be tailored to the customer's individual goals and SAP strategy.
Doing so starts in the early stages of migration, where both teams work with customers to take full inventory of their source landscape and comprehend the details of their SAP versions, operating system, and database platform.
From there, we work together to construct a reliable, secure, and highly available architecture based on the target SAP system considerations, capacity trends, and future growth.
Project planning and program governance are equally essential aspects for success, especially when it comes to large-scale and/or complex landscapes with multiple integrated SAP and non-SAP systems.
Accenture developed a patented workflow and decision support tool called A4C (Accelerate for Cloud) that digitizes Accenture's migration methodology. A4C spans across high-level and detailed planning, inventory management, migration waves bundling, sequencing, and execution. It also has capabilities to integrate with third-party tools like AWS CloudEndure Migration.
Once running on AWS, customers can automate SAP deployments and operations with the Accenture Cloud Suite for SAP on AWS. Built on infrastructure blueprints and best practices, this offering helps customers automate everything from day-zero deployments, to lifecycle management and SAP Basis and infrastructure operations—all through a single pane of glass.
Helping Customers Build a Modern Data Platform for SAP
Since the earliest days of enterprise resource planning (ERP) systems, IT and business executives have sought data collection and reporting capabilities that could provide a "single version of the truth" about business events.
By tapping into SAP and non-SAP application data and applying real-time analytics, teams could more effectively strategize, make decisions, and innovate. To date, few businesses have achieved this level of visibility, largely because of fragmented systems and competing priorities.
Creating an enterprise-wide data lake is a proven option to remedying this situation, yet most companies face significant obstacles that prevent them from building one themselves, including complex skills requirements and configuration needs.
The SAP Data Lake Accelerator minimizes the time and effort required to set up and configure a data lake. It does so by providing a variety of data ingestion and curation methods in a well-defined, zonal, and secure architecture, enabling fully automated data movement.
With the data lake, companies can apply analytics to new data sources, typically not supported by a data warehouse, such as log files, data from click-streams, social media, and internet-connected devices.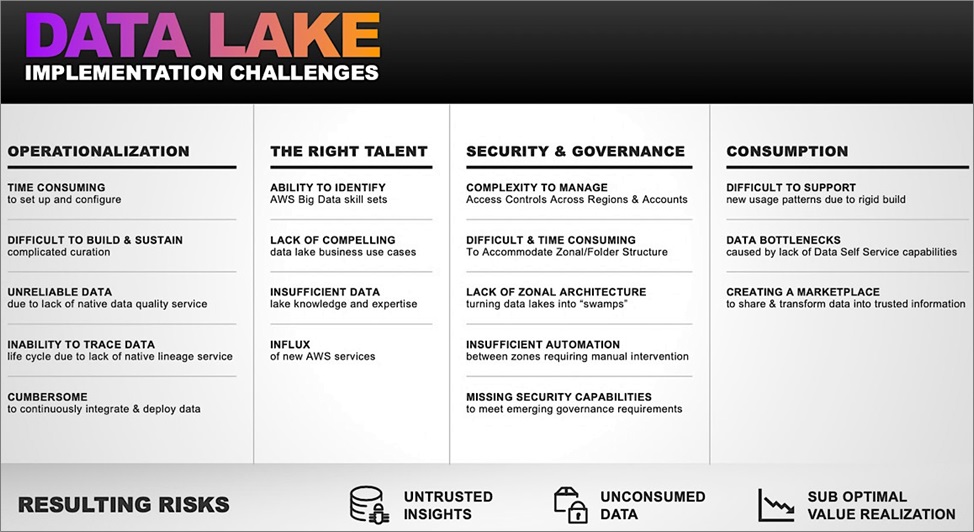 Today, most of the popular and fastest cloud data warehouses such as Amazon Redshift can be integrated with a data lake. In fact, a typical organization will require both a data warehouse and data lake because each serves different needs and use cases.
With a data lake, companies can apply analytics to new data sources, such log files, data from click-streams, social media, and internet-connected devices stored in the data lake. This capability helps them to identify and act upon opportunities for business growth faster by attracting and retaining customers, boosting productivity, proactively maintaining devices and making informed decisions.
Once established, the data lake can be reported on using a wide variety of tools as an open architecture (Tableau, Amazon QuickSight, Qlik, Power BI). This means you can continue to use your preferred tools to maintain continuity in reporting, or select a new one.
The SAP Data Lake Accelerator can deliver multiple benefits before and during a data lake implementation. Because it enables rapid buildout of a data lake, companies can improve speed to market, as well as time to insight. They can also embed more flexible architectures into the data lake.
At the scaling phase, the data lake supports better data-led decision making because the data is more trustworthy and supports on-demand data consumption, while also providing strong governance of data access and delivery. The accelerator helps companies drive business change quickly and in an agile fashion for a low cost of entry.
The SAP Data Lake Accelerator includes:
Automated analysis of relevant data in the source SAP systems: The accelerator eliminates the need for lengthy analysis cycles and the need to rely merely on people knowledge or outdated documentation. We scan the database and churn out which parts of the SAP data model are relevant. This output is then mapped to SAP BW extractors.


.

Automated generation of the necessary oData providers: Once the mapping to the necessary BW extractors is done, the accelerator automatically generates an oData provider for each extractor and publishes it on the SAP Gateway server.


.

Automated zone creation based on best practices: At the data level, the accelerator contains strong governance for folder structures. It creates four zones (landing, raw, curated, and transformed and provisioned) and runs scripts that create associated folder structures automatically in minutes. Automation is essential to a data lake that is scalable and sustainable.


.

Parameterized framework: Users can create one job or task, and then parameters are passed into them allowing for code reuse and orchestration based on configurations rather than having to write code from scratch.


.

Automated file movement: When creating a brand new data source, one must be able to trust the data that comes in from the raw zone. Any changes must be noted as such in a new report. Automated file movement eliminates the chance of unauthorized changes in raw data.


.

Scheduled data crawling: The accelerator creates a metadata catalog and self-service so there's a presentation layer for the customers of the datasets. As soon as an event happens, the data starts collecting the metadata immediately rather than days later.


.

Reduced deployment lifecycle: The focus here is on continuous improvement and continuous deployment (CI/CD) using small teams (several teams with three to six people each, for example) managing at scale, or even into hyperscale. A comparable deployment using other methods might require well over 100 people.


.

File-level quality controls: With the accelerator, there is no risk of accepting a partial or corrupted file or an incomplete database pull. Falsified records cannot damage the data environment because the accelerator performs automatic file verification and check. If the check sums don't match, the file is rejected.


.

Stable reference architecture: The accelerator uses a reference architecture that is scalable, stable, extensive, and market-agnostic, and is also built with industry best practices.
Accelerating the Journey to Business Value
The Accenture SAP Data Lake Accelerator powered by AWS helps customers fulfill cloud transformation initiatives. It delivers reliability, high performance, and robust security, all while enabling customers to dramatically improve decision making ability through more complete and reliable data.
Connect with our team at accentureaws@amazon.com to start making intelligent business decisions faster with SAP and non-SAP data.
.


.
---
Accenture – AWS Partner Spotlight
Accenture is an AWS Premier Consulting Partner and MSP. A global professional services company that provides an end-to-end solution to migrate to and manage operations on AWS, Accenture's staff of 440,000+ includes more than 8,000 trained and 6,000 AWS Certified professionals.
Contact Accenture | Practice Overview
*Already worked with Accenture? Rate the Partner
*To review an AWS Partner, you must be an AWS customer that has worked with them directly on a project.