Simplify and Protect Your AWS Outposts Deployment and Accelerate Access to Insights with AWS Partner Solutions
By Rob Czarnecki, AWS Outposts Principal Product Manager
By Kathleen Hillenbrand, Sr. Launch Product Manager at AWS
Last year, we launched AWS Outposts, a fully managed service that extends a range of Amazon EC2 instances and Amazon EBS volumes locally. Customers can run a wide range of other AWS services locally on AWS Outposts as well, including Amazon Elastic Container Service, Amazon Elastic Kubernetes Service, and Amazon RDS.
As customers adopt AWS Outposts, they need the right solutions to help deploy, monitor, secure, and integrate their Outposts-based workloads.
Today, we are excited to announce the new AWS Outposts Ready Program, part of the AWS Service Ready Program.
The AWS Outposts Ready Program makes it easy for customers to find integrated storage, networking, security, and industry-specific solutions that have been validated by AWS and tested on Outposts. This enables customers to easily identify solutions that will integrate with their Outposts deployments.
Customers use AWS Outposts to benefit from the same AWS hardware infrastructure, services, APIs, and tools to build and run their applications on-premises and in the cloud for a truly consistent hybrid experience.
Learn more about AWS Outposts Ready Partner products >>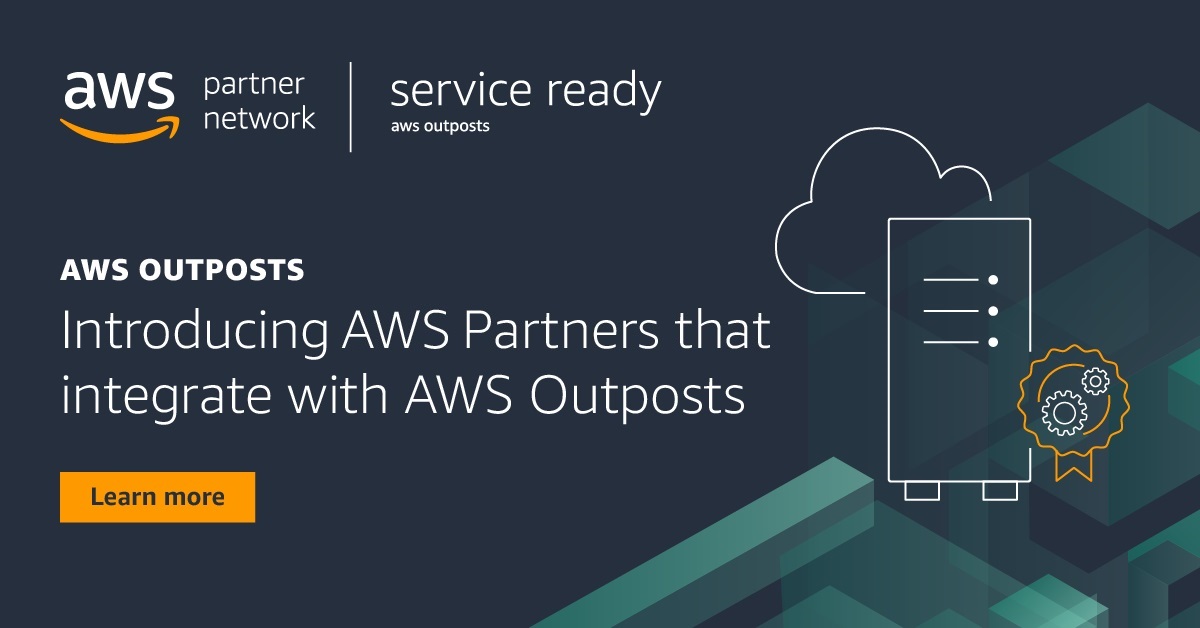 Launch Partner Showcase
The AWS Service Ready Program validates products built by AWS Technology Partners that integrate with specific services like AWS Outpost deployments. Through this program, we confidently recommend AWS Partner solutions to customers based on technical validation by Partner Solutions Architects.
In order to qualify, each AWS Partner's product is tested on an AWS Outpost and validated against specific technical criteria. AWS Outposts Ready products are generally available and supported for customers, with clear deployment documentation.
Explore AWS Outposts-validated products from the following AWS Service Ready Partners.
Alcide Advisor runs Kubernetes configuration scanning pre-production to ensure secure design. Alcide ART detects and enforces security measures on microservices in production.
RevenueONE Charging is a leading 5G-ready charging solution, ready to handle every new service in the 5G digital economy from Internet of Things (IoT) and media to network slicing and distributed edge monetization.
Establish a robust, single pane of glass, application monitoring for your AWS hybrid cloud by monitoring the performance of your applications running on AWS Outposts.
Citrix ADC is an enterprise-grade application delivery controller that delivers your applications quickly, reliably, and securely, with the deployment and pricing flexibility to meet your unique business needs.
Clumio backup as a service for Amazon EBS provides data loss and ransomware protection, delivers SaaS simplicity with predictable costs, and enables global search with quick fine-grain restores.
Cohesity DataPlatform is a modern architecture designed to be cloud-first. Native integration with AWS helps customers take advantage of the scalability and cost effectiveness of AWS for multiple use cases, including backup and recovery and file services.
Commvault helps companies protect, access, and use all of their data, anywhere and anytime, turning data into a powerful strategic asset. Commvault's intelligent data management platform provides seamless backup, recovery, disaster recovery, and data insight for cloud-based workloads.
Confluent enables companies to extract value from data in real-time with an event streaming platform that completes Apache Kafka to be enterprise-ready on AWS.
CTERA enables enterprises to securely sync, share, protect, and govern data everywhere by transforming Amazon Simple Storage Service (Amazon S3) storage into a full suite of cloud-enabled enterprise file services.
CyberArk Privileged Access Security Solution enables enterprises to protect both traditional and modern workloads by providing powerful solutions for securing, controlling, monitoring, and auditing passwords, credentials, and secrets across cloud, on-premises, and hybrid environments.
Datadog allows customers to run AWS Outposts at scale by providing deep visibility into the performance and health of their entire Outposts clusters.
Dynatrace can help customers monitor, troubleshoot, and optimize application performance for workloads operating on AWS Outposts, in AWS Regions, and on customer-owned hardware for a truly consistent hybrid experience.
Guardicore integrates application flow visualization, micro-segmentation, and breach detection and response into a single platform that is consistent across hybrid clouds and reduces the complexity inherent with a separate point products.
Terraform provides a consistent workflow for operators to provision infrastructure across public cloud, private cloud, and external services.
Nasuni Cloud File Services leverages Amazon S3 to consolidate NAS, distributed file server, backup, archiving, disaster recovery, and multi-site file synchronization capabilities in one scalable platform that spans the data center and the cloud.
Cloud Volumes ONTAP for AWS Outposts adds block and file storage services to an AWS cloud infrastructure for workloads requiring low latency access to on-premises systems, local data processing, or local storage.
N2WS Cloud Protection Manager is a AWS backup and disaster recovery solution of choice for thousands of customers worldwide. It combines the agility of the cloud with the robustness and feature richness required by today's organizations.
New Relic provides a unified observability platform for customers who are managing workloads running on the AWS Cloud, AWS Outposts, and on-premises. Solving challenges requires consistency.
With VM-Series, AWS users can protect their workloads through application visibility and precise control, prevent threats from moving laterally between workloads and stop data exfiltration, and eliminate security-induced application development bottlenecks with automation and centralized management.
Pure Storage FlashBlade is is a unified fast file and object storage platform for modern data and modern applications, with native scale-out file and object storage.
Qumulo on AWS is an advanced file system, designed for low latency, scale, and API programmability. Qumulo allows organizations to effortlessly move file-based applications and workloads to AWS Outposts.
The cloud-based Rafay Managed Kubernetes Platform provides a modern Kubernetes management to automate and standardize cluster and application management at scale across all infrastructures: on-premises, public clouds (with native Amazon EKS integration included), and edge networks.
Rubrik automates application data protection and accelerates cloud mobility from data centers to AWS. Backup to AWS for long-term archival. On-ramp to AWS with automated VM conversion, and protect AWS Outposts in your preferred AWS Region.
Scylla Cloud allows enterprises to run a fully managed Scylla Cluster on their AWS account within AWS Outposts. This allows you to take advantage of Scylla Cloud's low latency and high throughput, running in your own data center on AWS Outposts.
Sisense offers leading agile end-to-end cloud-native analytics solutions for simplifying complex projects that deliver insights to everyone both inside and outside their organizations.
Ocean is a managed data plane for Kubernetes that continuously analyzes how containers use infrastructure, and auto scales compute resources by intelligently choosing the optimal blend of spot, reserved, and on-demand compute instances.
Sysdig provides Kubernetes security, compliance, and monitoring insights to help AWS customers ship cloud applications faster with containers.
Trend Micro has several products that integrate with AWS Outposts:
Real-time security for cloud infrastructure—secure, optimize, comply. Conformity provides security and compliance posture management to help uphold your shared security responsibility and compliance requirements.

Smart Check delivers automated pre-runtime container image scanning within your CI/CD pipeline, improving protection of images prior to deployment.

Secure your data center, cloud, and containers without compromising performance or security with a comprehensive SaaS solution.

Streamline compliance and protect your workloads with agile security, built for AWS and hybrid environments. Host-based intrusion prevention (IDS/IPS), anti-malware, and log and integrity monitoring in a single product to protect workloads without impacting agility.
Turbot provides an automated policy and identity engine that enterprises can point and click policies to prevent user actions, set time-based RBAC, detect and repair misconfigurations.
Veritas is a leader in data protection. NetBackup provides enterprise-grade data protection seamless across all your environments, whether physical, virtual, or on AWS.
WekaIO Matrix is a scalable and distributed file system for high performance computing (HPC) workloads. The solution is fully POSIX compliant and works seamlessly with Amazon EC2 instances.
Zadara VPSA provides users with enterprise-class storage-as-a-service both in the the cloud and on-premises. The company's patented, software-defined Virtual Private Storage Arrays (VPSA) deliver flexible, multi-tenant storage solutions.
How AWS Partners Can Get Started
Review the AWS Outposts Ready Validation Checklist to determine whether this designation fits your company's product and technical strengths.
AWS Technology Partners looking to get their AWS Outposts product validated through the AWS Service Ready Program must be a Select or Advanced Tier Partner and pass their Technical Baseline Review prior to qualifying.
See the requirements for AWS Technology Partner tiers.
To ensure your product passes the Baseline Review, get best practices guidance in the Baseline Bits video series.