What you missed at the AWS Summit Brussels keynote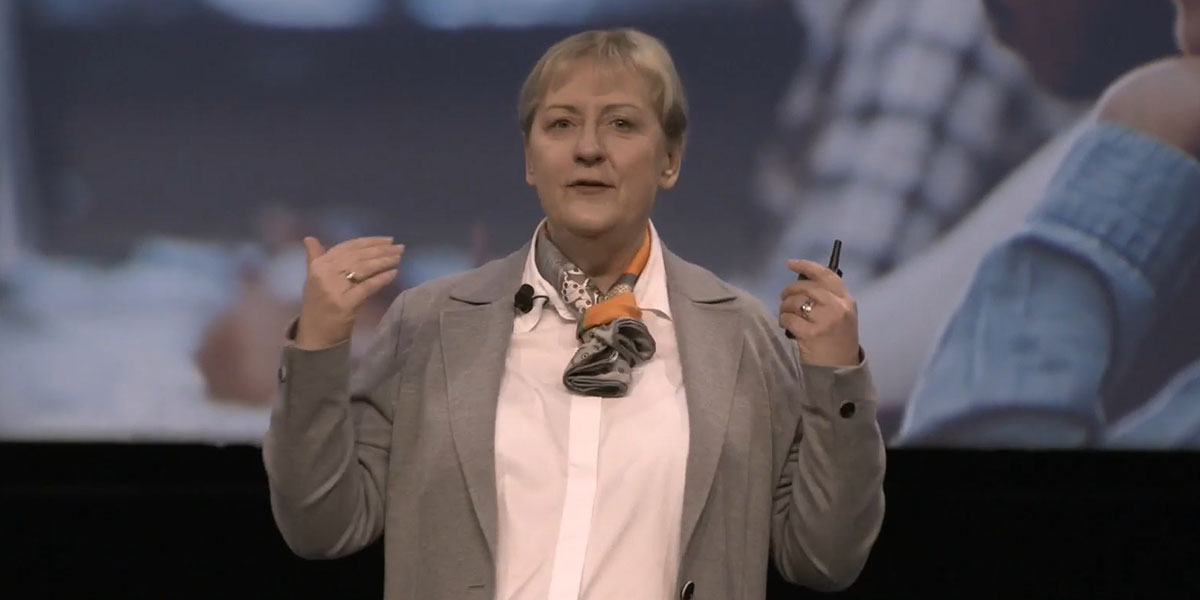 On March 31, the AWS Summit Brussels returned to the Egg in Brussels, Belgium. The no cost, in-person conference gathered cloud enthusiasts from the public and private sectors for a day dedicated to deepening cloud knowledge and learning about how the cloud is transforming organizations and businesses around the world.
Max Peterson, vice president of Amazon Web Services (AWS) worldwide public sector, introduced Isabella Groeger-Cechowicz, vice president of AWS worldwide public sector of Europe, Middle East, and Africa (EMEA) sales, who delivered the event's keynote. Isabella discussed how AWS is supporting customers with a dedication to data privacy and protection, sustainability, and social impact. Three customer speakers joined the stage to share stories about how they use the cloud to drive impact for their missions.
Read on for what you might have missed at the AWS Summit Brussels keynote:
Empowering digital transformation with data security and protection
AWS continues to grow in EMEA, with 54 offices across 30 countries, of which four are in Benelux—including Brussels, The Hague, Amsterdam, and Luxemburg—as well as 15 Amazon Development Centers in 10 countries across the region. "We're committed to innovation and economic growth in Europe, and we know security and trust are the foundation that drives this," said Max.
AWS is the only U.S. hyperscale cloud provider that declared adherence to the Infrastructure as a Service Code of Conduct on switching cloud provider and porting data (SWIPO). AWS also supported GAIA-X to define standards for the next generation of data infrastructure.
Recently, AWS announced the services that adhere to the Cloud Infrastructure Services Providers in Europe (CISPE) data protection code of conduct for added General Data Protection Regulation (GDPR) assurance. "As you modernize with and in the cloud, the cloud is constantly being modernized, too," said Isabella.
Customers become resilient in new age of digital threats
The Government of Bahrain continues its successful adoption and implementation of its cloud native policy to enhance the public's quality of life through efficient and advanced services. They have migrated more than 70% of their operations to the cloud, and are moving to become the first cloud native country in the world with a goal of hosting 100% of their operations in cloud.
Our customers see the cloud as the first step toward digital transformation. Philippe Merle, Chairman of the Cloud Council at the European Commission took the stage to share how AWS and the cloud are an important part of the Commission's digital transformation strategy. Philippe said the Commission first started its cloud journey seven years ago, and is now the largest cloud broker of all EU institutions. Philippe spoke about the importance of managed, serverless technologies to get the most efficiency from cloud architectures. "With serverless we can reduce the code of our apps by 80% and up to 95% for some cases. That's huge. For us — less code, less maintenance, and less costs." Philippe's team works to break down blockers and spearhead enablers to cloud adoption for other agencies. "Cultural transformation is the key," he said.
Customers who modernize with a secure and protected foundation can explore more opportunities to engage with citizens directly and efficiently. The City of Heidelberg in Germany used the AWS Smart Territory Framework to deploy and operate a smart city platform using Internet of Things (IoT) data. Within a week, the City of Heidelberg built the foundation to integrate their existing services and create new data spaces at a fast pace. Now, their modernization journey allows them to innovate and build an urban data culture while protecting their citizens' data.
Innovating on the road to sustainability with AWS
Amazon co-founded The Climate Pledge in 2019 and made a commitment to be net-zero carbon across our business by 2040, 10 years ahead of the Paris Agreement. With AWS, organizations in EMEA can use the cloud to help achieve their sustainability goals.
In 2021, AWS joined together with others in Europe to create the Climate Neutral Data Center Pact. That means increasing our energy efficiency in our facilities through the design and manufacturing of our equipment. In Ireland for example, AWS uses cooling systems by predominately using outside air to cool its servers. This means 95% of the year, AWS uses no water to cool its data centers in Ireland.
AWS is also building wind and solar farms in the UK, Sweden, and Spain to help power many of our regions in Europe. Research shows that in Europe, AWS infrastructures are five times more energy efficient and that AWS systems can perform the same task with an 88% lower carbon footprint than on-premise data centers. AWS is committed to powering operations with 100% renewable energy by 2025, five years earlier than our initial goal.
AWS Customer Carbon Footprint Tool helps strategize for sustainability goals
In March, AWS released the AWS Customer Carbon Footprint Tool. The tool helps customers small and large monitor, analyze, and reduce their carbon footprint. Customers can set carbon reduction goals more accurately and measure the emissions associated with the use of AWS to help develop better strategies and take better action to reduce emissions.
Customers harness data with AI and ML to protect environments and communities
"We want to lead by example and we want to support our customers on their sustainability journey, but we also see that our customers are doing an amazing job in using cloud technology to predict, to take action, and to prevent harm," said Isabella. One example is the Spanish Government, which created a tool using AWS artificial intelligence (AI) and machine learning (ML) services to predict wildfires. This helped the government support the prevention of wildfires, as well as allocate the proper amount of resources for firefighting.
Featured customer speaker Kirsten Schuijt, chief executive officer (CEO) of World Wildlife Fund (WWF) Netherlands, spoke to the audience about how AWS is powering their Forest Foresight "early warning system" to prevent deforestation. Throughout its 60-year history, WWF has become the largest conservation organization, and now focuses on protecting ecosystems and landscapes from destructive threats. Forest Foresight uses satellite imagery and AI powered by Amazon SageMaker to identify deforestation threats early, and get the evidence and information in front of key stakeholders while there's still time to act. They first piloted Forest Foresight in Gabon, where the pilot's predictions led to the discovery of illegal goldmining in real-time and saved 30 hectares of the Gabon tropical rainforest. Now, they're working with the government to roll out this system across the country, and more importantly, making sure the technology is accessible for local communities and leaders living in and around these vulnerable areas.
Training to help scale social responsibility across the globe
Organizations innovating for their communities with cloud solutions require a skilled cloud workforce. In the European public sector, 70% of organizations say they are accelerating their move to the cloud to deliver digital services to their citizens driven in part by the pandemic. However, 63% say they lack the skills and or experience needed.
AWS launches new education programs to expand learning opportunities
This month, AWS announced two no cost training initiatives to help individuals build foundational cloud skills. The first is AWS Cloud Quest: Cloud Practitioner, a game-based, role-playing experience ideal for early career or new-to-cloud adult learners and teaches foundation cloud computing concepts through challenges in a virtual city. The second is a new and improved version of AWS Educate. The update includes added interactive content and is more widely available through additional languages. AWS Educate provides this training in English, French, German, Portuguese, and Spanish local languages to support our EMEA customers and citizens. Read more about these programs here.
New AWS Cloud Labs in the Netherlands nurtures local innovation
AWS also announced the launch of the AWS Cloud Lab in the Netherlands. The AWS Cloud Lab in Haarlem, the Netherlands is located in the CupolaXS innovation center and provides digital support to small and medium-sized enterprises. CupolaXS gathers international and local companies in one place with resources they need to transform and grow their business using technology. Read more about the collaboration here.
Startup Showpad shows training is key to success
Customer speaker Jeroen Minnaert, chief architect and head of data for Showpad, joined Isabella to share how the startup fosters a culture of cloud training and certification. Showpad empowers modern sales teams by offering personalized content to create the best sales experience. They started their cloud journey in 2015 when they lifted-and-shifted to AWS. By 2020, they fully embraced the cloud, doubling down on serverless technologies to remove the heavy lifting of managing infrastructure to provide more "headspace for innovation." Beyond using over 80 AWS services, Showpad further embraces the cloud by collaborating with AWS on Immersion Days and promoting a strong AWS certification culture. Showpad's team has over 73 certifications among them, and more than 80 AWS Certification exams coming up.
"I'm continuously inspired by the efforts our customers and partners are leading, and it's clear there is no slowing down as we use the momentum gained to keep driving innovation," said Max. "Thank you again for all that you're doing to pave new paths and push boundaries. There are so many opportunities ahead."
Watch the AWS Summit Brussels keynote on demand now.
Want more in-person public sector content? Register now for the AWS Summit in Washington, DC.
---
Subscribe to the AWS Public Sector Blog newsletter to get the latest in AWS tools, solutions, and innovations from the public sector delivered to your inbox, or contact us.
Please take a few minutes to share insights regarding your experience with the AWS Public Sector Blog in this survey, and we'll use feedback from the survey to create more content aligned with the preferences of our readers.