Creating Unique Customer Experiences with Capgemini's Next-Gen Customer Intelligence Platforms
By Deepika Giri, Sr. Director, Insights and Data – Capgemini
By Vikas Nambiar, Manager, Partner Solutions Architect – AWS
Capgemini
As organizations evolve and embrace digital transformation, they realize customer value delivered is a function of quality of engagement through various channels: digital, online, and in-person.
Customer experience is at its best when a customer perceives the experience offered is unique and aligns to their preferences. The need to engage, at a very personal level, becomes key.
Organizations have realized that knowledge of data around customer behaviors are crucial for a differentiated customer experience.
Traditionally, customer relationship management (CRM) tools were considered the mainstay for first-party customer data, whereas now there are a plethora of solutions to choose from.
This ranges from a standalone tool or service to a complete ecosystem that deliver superior customer experience platforms, including customer data platforms (CDP) and marketing data management platforms (DMP), to name a few.
Businesses, meanwhile, have realized there is no single product or service that provides all of the features, and building such a platform requires a complex process. A robust and reliable customer platform has to integrate and aggregate first-, second- and third-party data seamlessly and in real-time in a cookie-less paradigm.
In this post, we'll look at how Capgemini's data and analytics practice implements Customer Intelligence Platforms on Amazon Web Services (AWS) to help companies a unified data hub. The platforms enable organizations to convert customer data into insights that can be used for reporting, building artificial intelligence (AI) and machine learning (ML) predictive analytics capabilities, and more.
Capgemini is an AWS Premier Consulting Partner and Managed Service Provider (MSP) with a multicultural team of 220,000 people in 40+ countries. Capgemini has more than 12,000 AWS accreditations and over 4,900 active AWS Certifications.
Capgemini Reference Architecture
Capgemini has worked with clients globally, across multiple industry sectors, and helped customers in their data transformation journey. This rich and deep industry experience and best practice knowledge has helped Capgemini simplify and industrialize the approach of building a modern data estate, designed to deliver business value and be future proof.
The Capgemini reference architecture outlined in this post serves as a blueprint to build next-generation data platforms that are robust, scalable, and drive innovation. This isn't just a technology platform but a framework that brings together people, processes, and technology. The architecture covers all aspects of data, from ingestion to consumption.
Capgemini's reference architecture is designed to be modular and decoupled, covering all major aspects of a data platform including:
Platform setup and management covering cloud platform planning and setup in addition to security aspects.
Data governance includes data quality, privacy, lineage, metadata management, and archival aspects.
Data foundation includes ingestion, both real-time and batch, data transformation, processing, and curation.
Advanced analytics foundations include data preparation and wrangle, model development, deployment and testing.
AI/ML includes custom AI and cognitive application deployment.
Visualization includes business intelligence (BI) reporting and self-service capabilities exposed via API interfaces.
Figure 1 – Capgemini customer data and AI platform reference architecture.
Customer Experience Technology Ecosystem View
Given the need to create a differentiated customer experience, major CRM system vendors have built systems with capabilities to integrate customer data. The goal is to help drive insights and activation to marketing and sales, customer care, and ecommerce systems.
There are many customer data platforms that serve to integrate all customer data and enrich them through AI/ML. These share actions to be delivered via marketing data management platforms or existing customer marketing or sales platforms.
However, the data capabilities of such implementations can be limiting, albeit they enable organizations to build a unified customer profile.
Such implementations are incomplete without the capability to provide a unique enterprise-wide customer ID that is derived from all parts of customer data spread across their applications. In addition, they are not specialized in data quality and privacy, golden record generation, and management and sector specific solutions.
This implementation also needs to be further integrated with customer behavior data to generate consumable products such as customer segmentation, propensity models, cognitive services and measurements, and insights.
Thus, Capgemini's Customer Intelligence Platform on AWS serves as a robust and reliable source of harmonized customer-related data.
A great degree of personalization is possible when all behavior and customer knowledge is deep and complete. A large variety of use cases can be built around this design using the customer intelligence gathered.
Below are some of the relevant use cases:
Predictive analytics: Customer churn prediction by integrating data from CRM and loyalty systems; creating a customer score to predict customer satisfaction levels; decreasing customer spend or lifetime value of long-standing customers can indicate an unhappy customer.
Real-time streaming analytics: Next Best Action/Next Best Offer using customer purchase history, customer segment, and browsing behaviors to define the right product or service offer; irrelevant offers negatively impact an organization's branding.
Descriptive analytics: Lifetime value of a customer based on tenure and spending patterns is done using predictive AI/ML models; this information can drive marketing campaigns across digital and non-digital channels.
Target Architecture for a Customer Intelligence Platforms
Capgemini's Customer Intelligence Platforms on AWS enable superior omnichannel customer experiences, empowering businesses to be innovative, agile, and pioneers in the way they operate. The platforms serve as a foundational data layer that delivers robust customer data and insights to applications like marketing, sales, customer care, and ecommerce.
Please note that the following architecture addresses common data ingestion, curation, and analytics foundation aspects of a typical solution. This can be further expanded to include platform and data governance aspects based on an organization's operational requirements.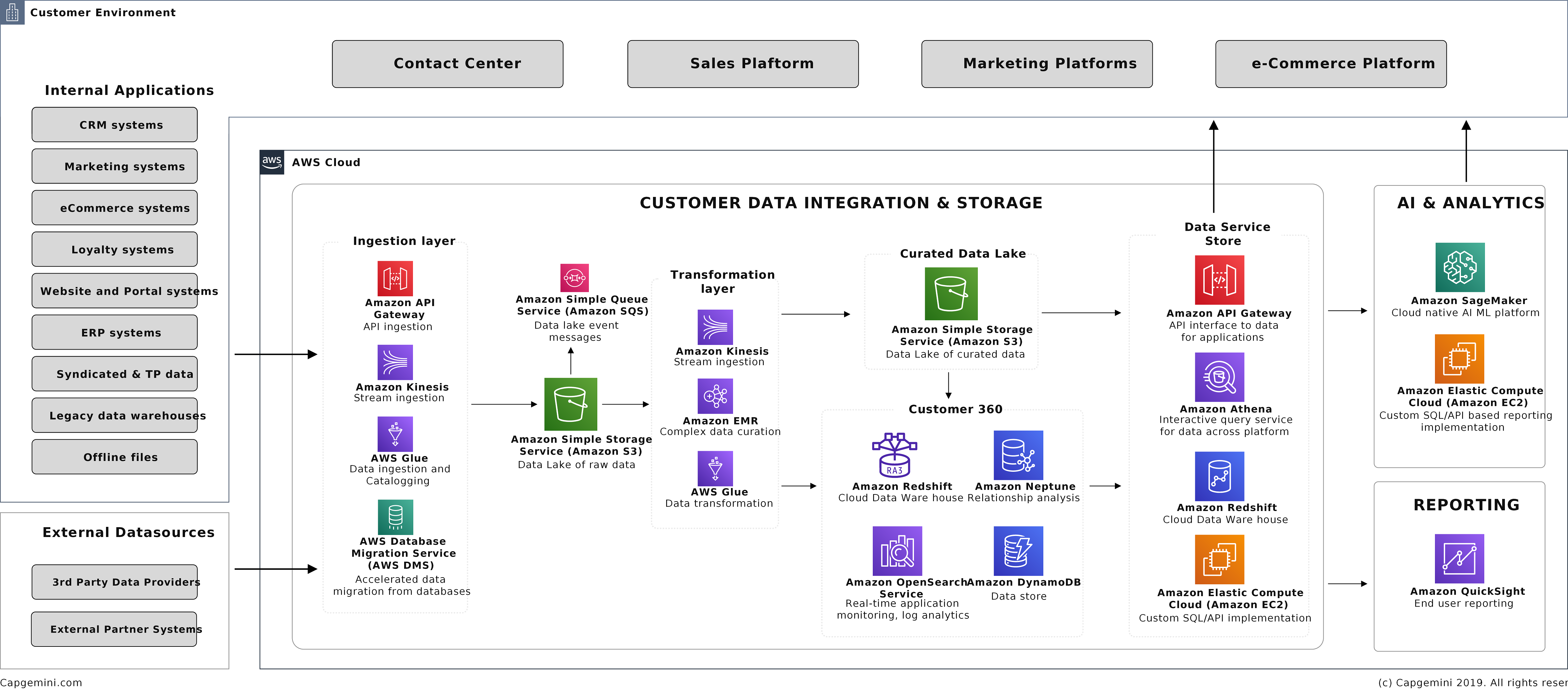 Figure 2 – Capgemini customer data and AI platform implementation design overview.
Key AWS services leveraged in the architecture:
Conclusion
In the current digital environment, without a unified data hub that converts customer data into insights, an organization's capability to retain their customers will be impacted.
Such a unified data hub, enriched with AI/ML services implemented to requirements, provides improved and unique customer experiences that are aligned to their interests and preferences. Platforms that achieve this can increase return customer numbers and deliver higher customer satisfaction numbers.
Capgemini's data and analytics practice, along with their Customer Intelligence Platforms on AWS, global experience, best-of-breed technology, process, and people can help enterprises create differentiated customer experiences.
Learn more about how Capgemini is turning customer value analytics into insights, decisions, and business value.
---
Capgemini – AWS Partner Spotlight
Capgemini is an AWS Premier Consulting Partner and MSP with a multicultural team of 220,000 people in 40+ countries. Capgemini has more than 12,000 AWS accreditations and over 4,900 active AWS Certifications.
Contact Capgemini | Partner Overview
*Already worked with Capgemini? Rate the Partner
*To review an AWS Partner, you must be a customer that has worked with them directly on a project.