Act Now or Lag Behind: Why SaaS Leaders Can't Afford to Overlook PLG on AWS
By Oded Rosenmann, Global Practice Lead, SaaS Partners – AWS
Akshay Patel, Principal SaaS Business Lead – AWS
You may have noticed the recent shift in the software-as-a-service (SaaS) industry towards a Product-Led Growth (PLG) approach. It seems like everyone is talking about it, and for a good reason.
The AWS SaaS Factory team has supported many AWS Partners in implementing PLG tactics as part of their efforts to reduce customer acquisition cost (CAC), widen their funnel, and expand globally. As with any significant change, there are challenges to overcome in making this transition.
If you're thinking your SaaS business is not growing fast enough, PLG may be the key to unlock your product's potential. Everyone from boards, investors, founders, C-suite executives, and even individual team members can benefit from understanding this game-changing strategy. If you haven't considered PLG by now, it's about time!
Product-Led Growth as a Winning Strategy for SaaS
PLG is a go-to-market (GTM) model in SaaS, leveraged as a growth amplifier. It extends reach and opens doors to a more diverse range of customers, while turning the product into a catalyst for business expansion and success. The GTM strategy shifts from traditional sales and marketing efforts, and your product itself becomes your main vehicle to acquire, activate, and retain customers.
PLG thrives in a SaaS environment. It enables organizations to address customer pain points through self-service capabilities. SaaS providers can enable users to quickly try the product, realize value, and convert trial users to paying customers, with minimal friction and without significant additional investment.
When you give the customers the keys to use your product, you need to turn this approach to an executable business strategy. Through our collaboration with numerous AWS Partners, we have developed the following seven-step guide. It's designed to assist C-suite executives and leaders of product in effectively implementing PLG on AWS.
The Seven Steps for Building PLG Throughout the Customer Lifecycle
Frequently, SaaS companies that begin to explore PLG strategies fall into typical pitfalls and overlook essential steps necessary to launch or pivot PLG. Here, we introduce the core components of what is needed to implement a winning PLG model.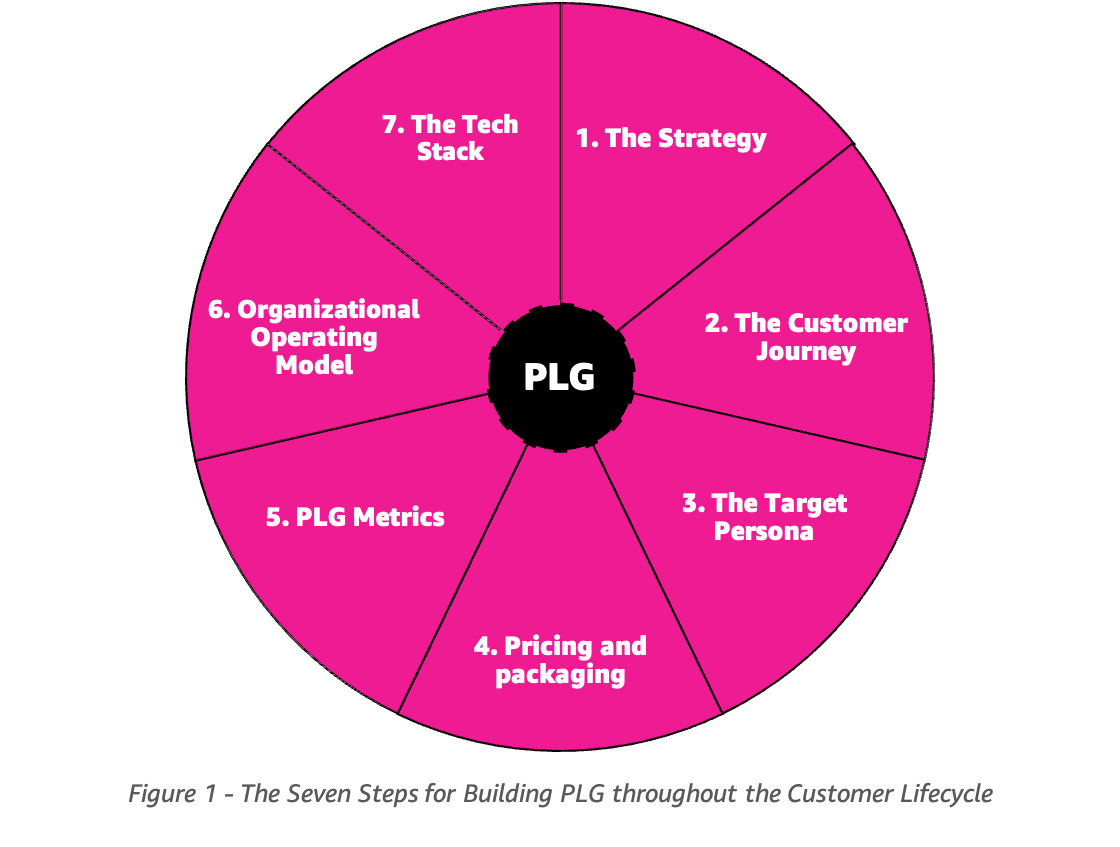 1) Align the Company to the PLG Strategy to Land New Customers Before You Expand
PLG is a company-wide strategy which is owned and led by the C-suite. As a leader, you are looking for opportunities to solve how you drive a land and expand strategy at scale.
Your architectural choices for multi-tenancy are crucial to deliver scalable and cost-effective SaaS solution that supports your PLG strategy. In the AWS blog post Let's Architect! Multi-Tenant SaaS Architectures, we talk about multi-tenant architectures that will help your technical teams get your product ready for a spike in growth.
With PLG, the goal is to attract users, simplify the discovery, try, and buy of your solution at scale. As the user is onboarded to your system, the strategy shifts to highlight the additional or new capabilities your SaaS solution can deliver.
One of the key actions in the Strategy step is to define your target audience, your ideal customer profile (ICP), and target personas. Collect data and feedback to understand their challenges, drives, and obstacles to create a user experience that will encourage them to try your SaaS solution. By using the PLG approach, first impressions matter, and streamlining your onboarding experience is crucial. Accelerate customer value realization using in-app guidance for seamless transitions to paid versions. Monitor time-to-value (TTV) and refine to strengthen growth potential. Ideally, when developing a B2B SaaS company, infuse it with a B2C-style user experience.
Twilio, an AWS Partner and customer data platform (CDP), mastered this when they fundamentally shifted traditional telecom industry by allowing every developer globally to quickly try and buy voice Application Programming Interfaces (API) to place a voice call. Their success of landing new customers at scale led to a launch of a series of fast-growing API-based communication services.
2) Rethink the Customer Experience Through Your SaaS Journey
With PLG, the product user experience (UX) is core to differentiating your SaaS solution and driven by the UX, product, and development teams. However, it's not limited to the product team alone. The customer facing teams play a role in supporting the product experience throughout the customer journey. When your product is the main driver for adoption and extension, a user-centric approach that enables moments of "wow's and aha's" becomes crucial.
Modern customers across any industry have become savvy in researching about options and other customer reviews prior to committing to any service, including SaaS. Introducing lower barriers to entry with trials and freemium offerings can widen your funnel and reduce CAC.
AWS Marketplace extends PLG strategies by offering customers a self-service experience to discover, purchase, and deploy SaaS solutions. Rocketlane, an AWS Partner with an AWS-qualified software offering, is using AWS Marketplace to create free trials and freemium offerings as part of their PLG strategy on AWS. "We're making customer onboarding more predictable and consistent so it doesn't have to rely on the heroics of individuals to take it across the finish line," says Deepak Balu, Co-Founder and CTO at Rocketlane.
3) Build a Focused Experience for the Persona You Are Solving for
Jeff Bezos famously pulled in an empty orange chair into a meeting, representing the customers voice at the table. This is how Amazon obsesses over and works backwards from customers. PLG forces the entire organization to think and do exactly that by focusing the persona they are serving.
Broadpeak is an AWS Partner with an AWS-qualified software offering. They are a leading provider of content delivery network (CDN) and video streaming solutions that helps content providers and pay-TV operators meet these expectations worldwide. "We were already deep in the description of buyer/user personas," says Mathias Guille, VP Cloud Platform at Broadpeak, "but AWS SaaS Factory really helped on the customer journey mapping and supported our process to deliver a seamless onboarding experience for customers."
Broadpeak's offering, broadpeak.io, has revolutionized customer experience by leveraging its secure streaming video API platform to contextualize and personalize content for each viewer. Understanding the importance of latency and edge presence for their target personas, Broadpeak deployed data plane clusters across various regions, ensuring proximity to end users for low-latency performance. They utilize key AWS services such as Amazon Aurora Global Database for distributed data management, and Amazon Route 53 for latency-based routing, significantly reducing time-to-market.
Emphasizing a persona-centric approach under the PLG model, Broadpeak focuses on tailoring experiences for the individual personas. This strategy prioritizes user expectations of low latency and personalization, delivering exceptional value to content providers and network service providers.
4) Use Pricing and Packaging as a Growth Lever
In SaaS, providers have many options and dimensions for packaging and pricing their offerings. The golden nugget here is to envision your pricing and packaging strategy as a key product feature. With a PLG approach, you're leading with self-service experience and your pricing model must be both transparent to remove any friction for customers to try and buy, as well as directly aligned to the value the customer is getting, and as this value grows, the value to your business grows.
GA Telesis, a parent company of FraudBlock and a leader in commercial aviation and one of the world's largest commercial aerospace firms, partnered with AWS SaaS Factory to launch its FraudBlock SaaS solution, a fraud protect API service for companies to protect their organizations from scams and help securely perform B2B transactions. "The true value is when the AWS SaaS Factory team worked with us to understand the 'as-a-service' mindset, create low-friction customer journey maps, establish key customer engagement indicators, and plan GTM strategies," says Darryl Maraj, SVP and Global CIO at GA Telesis.
FraudBlock leverages the flexible pricing options of AWS Marketplace, and as a starter PLG package, individuals can sign up for a free package in minutes. This approach is aligned with modern practices for usage-based and hybrid models – as API usage demands increase, users have the flexibility to upgrade to more premium packages, and pay on demand if usage exceeds their contract allowance. You can check out their offering in AWS Marketplace to review the different pricing options.
5) Measure, Measure, Measure
Launching PLG without metrics is like driving with a blindfold. With PLG, understanding what and how the customer is doing throughout the experience can differentiate your SaaS offerings and allow your team to scale.
The metrics throughout the journey starting with discover, try, buy, adopt, expand, and churn brings visibility to your teams to drive the intended behavior for your target persona. With these metrics, teams can also identify trigger points for enhancing the experience or discovering gaps. For instance, as a user navigates the trial experience it triggers usage metrics that reflect discovery of first value. These metrics often serve as catalysts, propelling them towards conversion into a paying customer. In PLG, this is often known as Activation.
Once user are activated, the same model can be used to drive buying or further expanding, which could be measured by be the number of times a user logs in, the number of features they use, and the time they spend on the platform. You can ensure that your SaaS solution is delivering the intended value to customers and identify which trigger points are most effective to refine your strategy accordingly to maximize customer lifetime value (CLTV) and retention.
Siemens, an AWS Partner focusing on electrification, automation, and digitalization, took a strategic path towards a SaaS-led business in 2021, introducing Xcelerator as-a-Service. Since this transformation decision, Siemens has leveraged Amazon QuickSight to enhance customer engagement through data-driven strategies.
"The QuickSight pay-per-session dashboard access is perfect as it allows secure, fast and cost-effective access to interactive data. As a cloud-based solution, QuickSight automatically scales to our needs," says Massimilliano Ponticelli, Product Manager at Siemens.
Ultimately, the product becomes part of the scaling mechanism to extend reach and acquire new customers. With Amazon QuickSight, Siemens were able to understand user behavior and expedite the path to value.
6) Build the Right Organization Around Your Customer and PLG Strategy
PLG breaks silo organization models and helps teams align to outcomes. It drives new organizational models where various functions are built to serve the motions of Land and Expand. To achieve this, it is key to define the right roles, hire or train the right individuals for those roles, and equip them with the necessary tools and metrics.
PLG and sales-led models aren't incompatible. The roles of marketing and sale evolve and expand across the entire organization. For instance, new roles such as Growth Product Manager, Customer Success Manager, Growth Marketer, and Inside Sales are becoming more common. As a leader, you should equip your teams with the necessary tools to track customer behavior, measure customer satisfaction, and monitor customer engagement.
Snyk, an AWS Partner with an AWS-qualified software offering, secures enterprise workloads with their SaaS solution on AWS. Snyk has made their SaaS trial simple, easy to start, and available globally in AWS Marketplace. They use data and analytics tools that help users navigate software and enables their growth teams to take real-time actions to drive adoption.
7) Implement SaaS Cloud-Native Architectures for Scale
For effective SaaS trials, ensure your product's unique value is conveyed via Minimum Viable Features (MVF) in a trial tier of your PLG model. Utilizing serverless or container technologies for your application's architecture provides scalability and cost-effectiveness, making them suitable for implementing the trial tier and support your PLG strategy.
AWS SaaS Factory team has built reference solutions to help AWS customers accelerate their SaaS journey. In our AWS blog posts, Building a Multi-Tenant SaaS Solution Using AWS Serverless Services and Building a Multi-Tenant SaaS Solution Using Amazon EKS, we cover the reference solutions and architecture considerations to streamline your onboarding, tenant isolation, data partitioning, tenant deployment pipeline, and observability.
Signeasy offers eSignature and document transaction management SaaS solution for businesses. As the company scaled, they used AWS Serverless to create a SaaS self-service dashboard for their customers. The AWS Serverless services such as AWS Lambda and Amazon Timestream scale out and in to meet customer needs, increase agility, and reduce infrastructure management while delivering an enhanced on-demand user experience.
In the post Why Signeasy Chose AWS Serverless to Build Their SaaS Dashboard, you can dive deep into why and how Signeasy used AWS Serverless to create a SaaS dashboard for their tenants.
Conclusion
In this post, we have explored seven steps that are your secret sauce to moving from good to great. There isn't really an option to choose to be awesome in one area; all elements must work together synergistically.
As a SaaS leader, you have the power to reshape modern business models. Start rethinking your PLG strategies and collaborate with AWS and the AWS Partner community to grow your SaaS business.
For further reading about PLG and SaaS on AWS, please review all of our content in the AWS SaaS Factory Insights Hub.
Now, go bring some fresh PLG-driven thinking to your SaaS journey!
About AWS SaaS Factory
AWS SaaS Factory helps organizations at any stage of the SaaS journey. Whether looking to build new products, migrate existing applications, or optimize SaaS solutions on AWS, we can help. Visit the AWS SaaS Factory Insights Hub to discover more technical and business content and best practices.
SaaS builders are encouraged to reach out to their account representative to inquire about engagement models and to work with the AWS SaaS Factory team.
Sign up to stay informed about the latest SaaS on AWS news, resources, and events.