Why You Should Join the AWS Partner Network and AWS Competency Program: Insights from PGS Software
By Michał Brygidyn, APN Ambassador at PGS Software
If you're an IT solution provider, chances are you've worked with the Amazon Web Services (AWS) platform. After all, AWS has more than 200 global cloud-based services that help organizations move faster, lower IT costs, and scale.
The breadth and depth of AWS products covers compute, storage, databases, analytics, networking, mobile, security, and more. Knowing what's what is crucial if you want to use these tools effectively, and one of the best ways to do that is by teaming up with the tool makers themselves.
At PGS Software, an IT service provider headquartered in Wroclaw, Poland, we work closely with AWS to help our clients move existing applications to the cloud, transform legacy systems, and design innovative solutions.
As an AWS Partner Network (APN) Advanced Consulting Partner, PGS Software has earned AWS Competencies in DevOps and Retail, as well as the AWS Lambda Service Delivery designation. We are also a member of the AWS Well-Architected Partner Program, and have strengthened our business with step-by-step guidance from the APN Navigate program.
Diving deep into our relationship with AWS and PGS Software's own journey through the APN program, I will discuss the benefits of being an APN Partner and achieving AWS Competencies. I'll also share tips on how you, too, can achieve AWS Competencies and get the most out of your AWS partnership.
I am a Cloud Solutions Architect and Security Researcher at PGS Software, and have been an APN Ambassador since early 2020. I'm passionate about finding sources of leaking data, and have already helped companies from various industries to improve their infrastructure security.
APN Ambassadors work closely with AWS Solutions Architects to migrate, design, implement, and monitor AWS workloads.
Why Join the AWS Partner Network?
The first step in developing your company's AWS knowledge and skills lies in joining the AWS Partner Network (APN).
The APN is the global partner program for technology and consulting businesses who leverage AWS to build solutions and services for customers. The APN helps partners build, market, and sell their AWS offerings by providing valuable business, technical, and marketing support.
PGS Software joined the APN as a consulting partner back in 2017. Since then, the APN has opened up many possibilities for us as an IT service provider. This includes technical programs and competencies that have expanded our skills in key areas like software-as-a-service (SaaS), devices, digital transformation, and more.
For us, some of the benefits that came with APN membership included:
Gaining visibility with AWS customers. Through industry-recognized certifications, badges, go-to-market (GTM) support, and networking and sales opportunities, we leveraged APN programs to showcase our AWS expertise.
Networking with AWS experts. Regular exchanges with Territory Account Managers, Partner Development Managers, Partner Success Managers, and more helped us build awareness for PGS Software.
Learning about AWS best practices through comprehensive technical and business audits. We learned how to best tackle issues like scalability and how to scale up to 1,000 AWS Lambda functions when PGS Software underwent audits for our DevOps and serverless capabilities.
Combining our GTM efforts. Through joint webinars and events with AWS, we were able to increase our reach and credibility with customers. Marketing Development Funds (MDF) helped to boost our go-to-market initiatives.
Within a year of joining the AWS Partner Network, PGS Software became an Advanced Consulting Partner. This enables us to show customers that we have accredited experts and extensive knowledge in both DevOps and Well-Architected Reviews.
Now, after achieving several APN program designations including both the AWS DevOps and AWS Retail Competency, we are gearing up to take the final step to become an APN Premier Consulting Partner.
Our APN Journey
At PGS Software, we started to use cloud solutions in 2011 and have been providing end customers with cloud-based solutions ever since.
We adopted a full-cloud philosophy and remained laser-focused on attaining the necessary accreditations, based on the assets and skills we already had on the team.
It was a natural step forward to get certified with those companies who provided the infrastructure we so often used in our solutions. After registering with the AWS Partner Network in early 2017 as an APN Consulting Partner, we met the requirements for achieving Select tier status a few months later after certifying our first developers and solution architects.
Today, a proud 300 of our co-workers have completed the AWS Technical and Business Professional Accreditation, and a number of our staff also attained higher credentials such as AWS Certified Developer and AWS Certified Solutions Architect.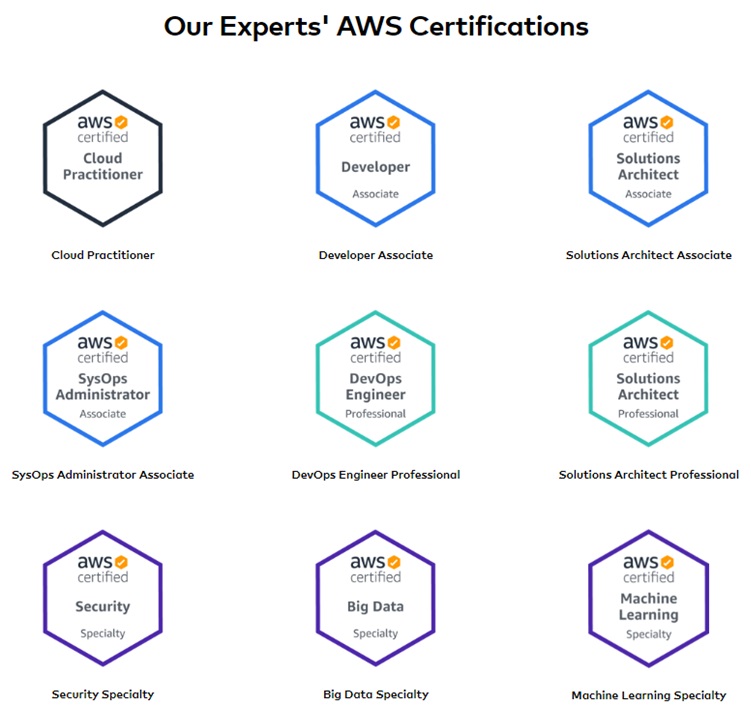 We started with long training sessions for everyone who was interested, and many people attended those first sessions. To speed things up, we created an internal app which people could use to complete the training and "test their might" in mock exams—all on their own time.
PGS Software applied for the APN Advanced Tier in early 2018, and then we cast our eye on earning AWS Competencies to help our business stand out in the market.
What is the AWS Competency Program?
The aforementioned AWS products are as varied in their use as they are numerous. From Amazon Virtual Private Cloud (VPC) to Amazon Aurora, there's an AWS tool for just about every purpose.
The AWS Competency Program provides a framework in which these products can be applied effectively. AWS Competencies highlight APN Partners with demonstrated technical proficiency and proven customer success in specialized areas across industry, application, and workloads.
Companies that attain an AWS Competency have proven they know how to use the plethora of AWS tools to boost their own customers' success, help them innovate, and stay ahead of the competition.
At PGS Software, the in-depth knowledge that is generated and shared through APN programs like Competency has been a driver for our continued success. We wholeheartedly recommend AWS Competencies to any business that wants to provide cloud-based solutions to customers.
Besides accreditation through audits and checks conducted by AWS designed to keep your cloud skills sharp, APN Partners earning a Competency designation get access to a range of other benefits:
Higher visibility on APN channels.
Eligibility to partake in APN marketing activities, Market Development Funds (MDF), and discounts.
Customer leads through the APN Customer Engagement (ACE) program.
Opportunities to promote your business at key AWS events.
Since all of our software delivery processes involved DevOps, we chose to pursue the AWS DevOps Competency and achieved that status in November 2019. Then, in May 2020, we earned the AWS Retail Competency as well.
Here's what that process looked like, as told through the lens of our AWS Retail Competency application experience.
Earning the AWS Retail Competency
Throughout our APN journey, we wanted to show that we really knew our stuff in specific solution areas critical to our business. AWS Competencies are designed to identify, validate, and promote APN Partners with demonstrated technical expertise and proven customer success.
First, you have to choose the right Competency based on the type of projects you've already completed. We had a great portfolio when it came to retail and e-commerce clients, so it made sense to go in that direction when AWS announced the Retail Competency at AWS re:Invent 2019.
For us, the whole process lasted about five months. We gathered all of the material that showed our expertise and the approaches we use with customers leveraging AWS services. This included demonstrating effective project management processes, agile and secure ways of working, and surveying our clients' satisfaction levels.
Creating landing pages for our retail services was next on the menu, followed by gathering and creating content like whitepapers, case studies, and blog posts about the relevant solution area.
The case studies needed to reflect important work we did for a client, helping them achieve their technology goals through AWS services. You should note that a proof of concept (POC) is not admissible as proof of delivered services.
We needed at least four customer case studies, which had to be structured as follows:
Customer description
Retail problem or challenge
Proposed solution
Outcomes
Lessons learned
Architecture diagrams
Two of the four required case studies must be public, and I recommend having one extra case study at the ready, should one of your four not meet the APN requirements fully.
All of the materials must be drafted according to specific guidelines and validation checklists. There are separate validation checklists for APN Consulting Partners and APN Technology Partners.
Our AWS Retail Competency timeline looked like this:
Two months for gathering materials to cover the validation checklist.
One month for polishing materials and preparing backups.
One month of working with the AWS technical validation team.
Four hours for the audit.
Two weeks for the final evaluation.
Needless to say, we were super proud when we came out of it successfully and joined the AWS Retail Competency.
As it was our third technical program, after achieving the DevOps Competency and AWS Well-Architected Partner status, the Retail Competency has brought us even closer to becoming an APN Premier Consulting Partner, which has been a goal of ours from the very beginning.
Summary
If your organization is doing cloud projects on AWS, you should definitely consider joining the AWS Partner Network. It goes a long way to have that official seal of approval, and the benefits you get as an APN Partner are worth it.
In the process of sharing our company story with AWS, both in joining the APN and in pursuing two AWS Competencies, we have gotten to know ourselves and our clients even better. In turn, this reassures our customers and future prospects that their cloud projects are in good hands.
I hope this post helps you on your way to becoming an APN Partner, too!
The content and opinions in this blog are those of the third party author and AWS is not responsible for the content or accuracy of this post.
---
PGS Software – APN Partner Spotlight
PGS Software is an APN Advanced Consulting Partner. They have been helping customers achieve digital transformation goals since 2005. PGS Software's deep relationship with AWS includes AWS Competencies in both Retail and DevOps, and an AWS Lambda Service Delivery designation.
Contact PGS Software | Practice Overview
*Already worked with PGS Software? Rate this Partner
*To review an APN Partner, you must be an AWS customer that has worked with them directly on a project.