Now Open – AWS Asia Pacific (Seoul) Region
We are expanding the AWS footprint once again, this time with a new region in Seoul, South Korea. AWS customers in the area can use the new Asia Pacific (Seoul) region for fast, low-latency access to the suite of AWS infrastructure services.
New Region
The new Seoul region has two Availability Zones (raising the global total to 32). It supports Amazon EC2 (T2, M4, C4, I2, D2, and R3 instances are available) and related services including Amazon Elastic Block Store (Amazon EBS), Amazon Virtual Private Cloud (Amazon VPC), Auto Scaling, and Elastic Load Balancing.
It also supports the following services:
There are two edge locations in Seoul for Amazon Route 53 and Amazon CloudFront. AWS Direct Connect support is available via KINX.
This is our twelfth region (see the AWS Global Infrastructure map for more information). As usual, you can see the full list in the region menu of the AWS Management Console: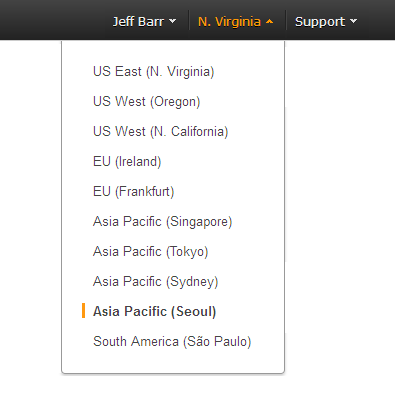 Customers
There is already a very broad base of AWS customers in Korea. Here are a couple of examples:
Samsung used AWS to build the Samsung Printing App Center. This complex app can deploy mobile printing, scanning, and copying applications to a global customer base in real time. They chose AWS in order to be cost-effective, agile, and scalable.
Nexon is Korea's premier gaming company, providing 150 games in 150 countries. AWS allows them to address a global customer base and to experiment with different games without having to invest in local infrastructure. Their newest MMORPG game, HIT, recently achieved the number one sales rank within the Korean mobile gaming industry in a record amount of time, running 100% on AWS.
Mirae Asset Global Investments Group migrated their web properties from on-premises data centers to AWS. This allowed them to stay competitive while reducing their management costs by 50%. With the launch of the new region, they will move additional sensitive, mission-critical workloads to AWS.
Eastar Jet was the first Korean airline company to migrate workloads to the public cloud. As one of the fastest-growing low-cost carriers (4 domestic and 6 international routes), they needed to reduce costs, increase availability, and ensure reliability as the total passenger count grew to over 14 million. They plan to move additional workloads to the new region.
The Beatpacking Company runs a popular music streaming app, with traffic that sometimes surges to 300% of the usual level. Since launching on AWS in March of 2014, they have grown to over 6 million users. Despite this growth, they reduced their AWS cost per user by 97% in the past year.
Partners
We are pleased to be working with a very wide variety of partners in Korea. Here is a sampling:
Offices and Support
We opened an AWS office in Seoul in 2012. This office supports enterprises, government agencies, academic institutions, small-to-mid size companies, startups, and developers. The full range of AWS Support options is also available.
Compliance
Every AWS region is built and designed to meet rigorous compliance standards including ISO 27001, ISO 9001, ISO 27017, ISO 27018, SOC 1, SOC 2, and PCI DSS Level 1 (to name a few); see the AWS Compliance page for more info.
AWS implements an Information Security Management System (ISMS) that is independently assessed by qualified third parties. These assessments address a wide variety of requirements which are communicated by making certifications and audit reports available, either on our public-facing website or upon request.
As customer trust is our top priority, AWS adopts global privacy and data protection best practices. Our most recent example of this commitment is our validation by an independent third party attesting that we align with ISO 27018 – the first international code of practice to focus on protection of personal data in the cloud. This demonstrates to customers that AWS has a system of controls in place specifically to address the privacy protection of their content.
For more information on how we handle data privacy, take a look at our Data Privacy FAQ.
Use it Now
This new region is open for business now and you can start using it today! If you are able to read Korean and want to know more about this region, please visit the new Seoul Region microsite. You'll find additional information about the new region, documentation on how to migrate, customer use cases, information on training and other events, and a list of AWS Partners in Korea.
— Jeff;
Modified 2/11/2021 – In an effort to ensure a great experience, expired links in this post have been updated or removed from the original post.