Bringing Immersive Customer Experiences to the Metaverse Using HCLTech Metafinity and AWS
By Padmashri Suresh, Practice Director and Metaverse Architect, Digital and Analytics – HCLTech
By Senthilkumar Kathiresan, Solution Architect, Digital and Analytics – HCLTech
By Daksh Srivastava and Vidhya Sri Soundararajan, Lead Consultants, Digital and Analytics – HCLTech
By Jerry Li and Deepak Chandrasekaran – AWS
HCLTech

The metaverse may be described as a virtual world or shared digital space where people participate as avatars to interact with each other in a multitude of digital objects and environments. It attempts to extend the user's reality and make available unprecedented and immersive user experiences.
HCLTech views the metaverse as an addition to existing mobile channels poised to disrupt the market. Replacing workstations with Meta Quest and HTC Vive-like head-mounted devices will catalyze the evolution of two-dimensional applications to three-dimensional interactives.
In this post, we will explore:
HCLTech's Metafinity: Introduction to HCLTech's flagship offering–Metafinity–its foray into the metaverse for industrialized solutions and its capabilities. Metafinity creates custom 3D avatars and integrates with HCLTech's OBOL Tokenization framework among others.
Leveraging AWS services: The various AWS services utilized and how their versatility contributes to Metafinity.
Benefits: Metafinity enhances end-consumer engagement, reduces time to market, and decreases the development cycle allowing organizations to quickly execute proofs of concept, test them with a limited audience, and gain insights into technology.
HCLTech is an AWS Premier Tier Services Partner and AWS Marketplace Seller with multiple AWS Competencies. With expertise in digital, engineering and cloud, HCLTech delivers solutions that fulfill the transformational needs of its clients.
What the Metaverse Addresses
The metaverse has endless possibilities and its use cases span across verticals like healthcare, education, banking, media and entertainment, tourism, manufacturing, and retail. It attempts to bridge the physical and virtual worlds with cutting-edge technologies such as augmented reality (AR), virtual reality (VR), and mixed reality (MR), resulting in a better and immersive user experience.
A few of the emerging metaverse use cases are:
Employee onboarding (all industries): It has the potential to transform traditional employee onboarding into a VR experience where new employees may meet individuals within the organization, collaborate with others in real-time, and comprehend its culture better without any physical visit to the premises.
Digital shopping experience (retail): The metaverse elevates digital shopping experiences to the next level for both physical and virtual products. It lets customers take a virtual tour of the entire store, learn about products, and interact with sales assistants in real-time, allowing them to make reliable buying decisions.
Digital twins (manufacturing): It addresses real-world manufacturing problems through the creation of digital twins paired with real-world data of products. It provides valuable insights that assist manufacturing houses identify and resolve problems well before prototypes go into production.
Employee training (all industries): Personnel training is among the most explored use cases for the metaverse. It makes it possible for distributed teams to experience in-classroom training sessions in a shared environment, and reduces cost through negligible travel and procurement of machinery requirements.
The graphic below depicts the traditional method of employee onboarding vs. metaverse-based employee onboarding.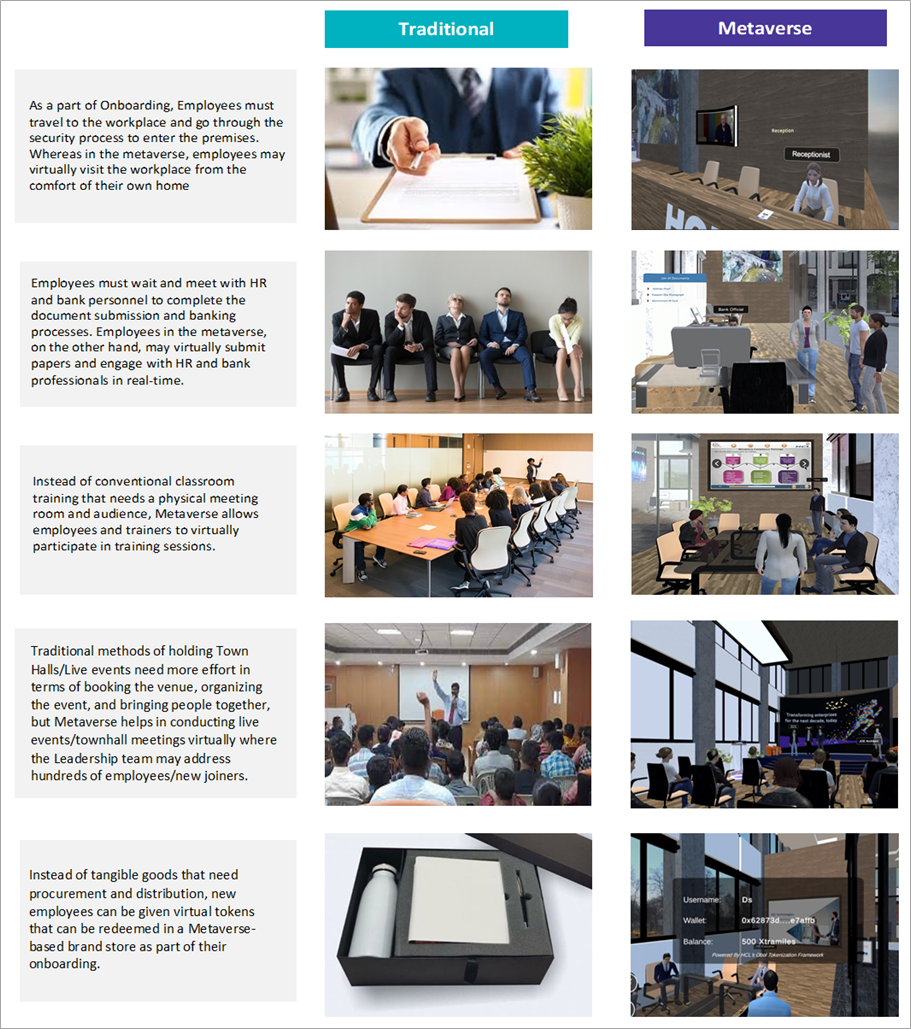 Figure 1 – Traditional employee onboarding vs. metaverse-based onboarding.
Metafinity: HCLTech's Foray into the Metaverse
Metafinity is HCLTech's flagship offering under digital metaverse accelerators. Built atop its proven XRStudio platform, Metafinity platform has the following capabilities:
Repository of verticalized solutions and pre-built algorithms.
Helps customers to create 3D digital avatars.
Design and develop scenes.
Integrates with HCLTech's OBOL Tokenization framework with key capabilities to provide enterprise scale decentralization and tokenization features.
Supports a wide range of high- to low-end devices like Oculus Quest2, VR headsets with smartphones, Windows PC, Mac, and Linux.
The Metafinity solution harnesses AWS services for development, storage, compute, analytics, artificial intelligence, machine learning, and deployment.
Deep Dive of AWS Capabilities in Metafinity
Metafinity harnesses the power of AWS to its potential using the following AWS services:
Enterprise and consumer-facing metaverse applications experience latency issues because of large 3D assets and content downloads, real-time avatar motion, audio-visual synchronizations, and complex XR/AI computations.
HCLTech's Meta Auto solution ingests real-time telematics data and vehicle status information from the IoT sensors available in the car into a virtual replica of the metaverse by leveraging Amazon Kinesis and AWS IoT services. These complex functionalities need high-speed bandwidth and low latency. AWS Wavelength is leveraged with 5G to achieve ultra-low latency application.
Solution Architecture
The reference architecture of Metafinity-based solutions using AWS services is provided below. To develop the Metafinity platform, HCLTech adhered to the AWS design principles and the six pillars of the AWS Well-Architected Framework.
Figure 2 – Reference solution architecture.
Benefits of HCLTech Metafinity
Metafinity makes it possible for organizations to swiftly execute exploratory proofs of concept and test them with a limited audience to comprehend technology.
In addition, Metafinity harnesses HCLTech's expertise to craft superior user experiences and deliver a wide range of benefits in key areas:
Focused developer effort: Using reusable components and starter kits abstract complexities, leaving room to innovate on mainstream solutions.
Optimized research time: Time and effort spent to arrive at the best possible approach and tech stack to cater to business requirements.
A few screenshots of solutions created through Metafinity are shared below.
Meta Auto
Figure 3 – Meta Auto user journey.
Meta Retail
Figure 4 – Meta Retail user journey.
Conclusion
HCLTech has garnered traction in the metaverse space across many verticals, and its clients have shown interest in implementing metaverse solutions in an attempt to identify a cohesive fit into their landscape while enhancing customer experiences.
HCLTech has developed solutions for leading banking and insurance clients to evaluate how the metaverse can help customers without any need for physical travel. This significantly improves the user experience because the metaverse will always be available, and immediate customer assistance can be provided for any concerns or inquiries.
To learn more about the HCLTech Metafinity solution, visit HCLTech's metaverse page or contact metafinity@hcl.com to discuss your unique business needs in embracing the metaverse's unique possibilities.
---
HCLTech – AWS Partner Spotlight
HCLTech is an AWS Premier Tier Services Partner and MSP that serves hundreds of global enterprises to solve day-to-day and complex challenges with a dedicated full-stack business unit.
Contact HCLTech | Partner Overview | AWS Marketplace | Case Studies