Now Open – AWS Asia Pacific (Mumbai) Region
September 8, 2021: Amazon Elasticsearch Service has been renamed to Amazon OpenSearch Service. See details.

August 4, 2023: Updated list of AWS Consulting Partners.
---
We are expanding the AWS footprint again, this time with a new region in Mumbai, India. AWS customers in the area can use the new Asia Pacific (Mumbai) Region to better serve end users in India.
New Region
The new Mumbai region has two Availability Zones, raising the global total to 35. It supports Amazon Elastic Compute Cloud (Amazon EC2) (C4, M4, T2, D2, I2, and R3 instances are available) and related services including Amazon Elastic Block Store (Amazon EBS), Amazon Virtual Private Cloud (Amazon VPC), Auto Scaling, and Elastic Load Balancing.
It also supports the following services:
There are now three edge locations (Mumbai, Chennai, and New Delhi) in India. The locations support Amazon Route 53, Amazon CloudFront, and S3 Transfer Acceleration. AWS Direct Connect support is available via our Direct Connect Partners (listed below).
This is our thirteenth region (see the AWS Global Infrastructure map for more information). As usual, you can see the list of regions in the region menu of the Console: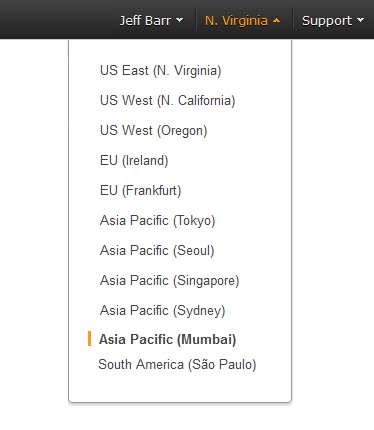 Customers
There are over 75,000 active AWS customers in India, representing a diverse base of industries. In the time leading up to today's launch, we have provided some of these customers with access to the new region in preview form. Two of them (Ola Cabs and NDTV) were kind enough to share some of their experience and observations with us:
Ola Cabs' mobile app leverages AWS to redefine point-to-point transportation in more than 100 cities across India. AWS allows OLA to constantly innovate faster with new features and services for their customers, without compromising on availability or the customer experience of their service. Ankit Bhati (CTO and Co-Founder) told us: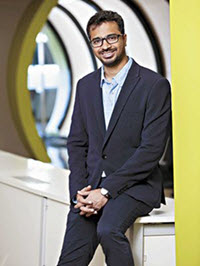 We are using technology to create mobility for a billion Indians, by giving them convenience and access to transportation of their choice. Technology is a key enabler, where we use AWS to drive supreme customer experience, and innovate faster on new features & services for our customers. This has helped us reach 100+ cities & 550K driver partners across India. We do petabyte scale analytics using various AWS big data services and deep learning techniques, allowing us to bring our driver-partners close to our customers when they need them. AWS allows us to make 30+ changes a day to our highly scalable micro-services based platform consisting of 100s of low latency APIs, serving millions of requests a day. We have tried the AWS India region. It is great and should help us further enhance the experience for our customers.
---
NDTV, India's leading media house is watched by millions of people across the world. NDTV has been using AWS since 2009 to run their video platform and all their web properties. During the Indian general elections in May 2014, NDTV fielded an unprecedented amount of web traffic that scaled 26X from 500 million hits per day to 13 billion hits on Election Day (regularly peaking at 400K hits per second), all running on AWS. According to Kawaljit Singh Bedi (CTO of NDTV Convergence):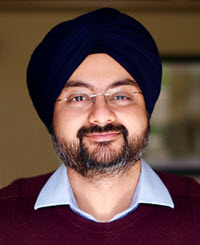 NDTV is pleased to report very promising results in terms of reliability and stability of AWS' infrastructure in India in our preview tests. Based on tests that our technical teams have run in India, we have determined that the network latency from the AWS India infrastructure Region are far superior compared to other alternatives. Our web and mobile traffic has jumped by over 30% in the last year and as we expand to new territories like eCommerce and platform-integration we are very excited on the new AWS India region launch. With the portfolio of services AWS will offer at launch, low latency, great reliability, and the ability to meet regulatory requirements within India, NDTV has decided to move these critical applications and IT infrastructure all-in to the AWS India region from our current set-up.
---
Here are some of our other customers in the region:
Tata Motors Limited, a leading Indian multinational automotive manufacturing company runs its telematics systems on AWS. Fleet owners use this solution to monitor all vehicles in their fleet on a real time basis. AWS has helped Tata Motors become to more agile and has increased their speed of experimentation and innovation.
redBus is India's leading bus ticketing platform that sells their tickets via web, mobile, and bus agents. They now cover over 67K routes in India with over 1,800 bus operators. redBus has scaled to sell more than 40 million bus tickets annually, up from just 2 million in 2010. At peak season, there are over 100 bus ticketing transactions every minute. The company also recently developed a new SaaS app on AWS that gives bus operators the option of handling their own ticketing and managing seat inventories. redBus has gone global expanding to new geographic locations such as Singapore and Peru using AWS.
Hotstar is India's largest premium streaming platform with more than 85K hours of drama and movies and coverage of every major global sporting event. Launched in February 2015, Hotstar quickly became one of the fastest adopted new apps anywhere in the world. It has now been downloaded by more than 68M users and has attracted followers on the back of a highly evolved video streaming technology and high attention to quality of experience across devices and platforms.
Macmillan India has provided publishing services to the education market in India for more than 120 years. Prior to using AWS, Macmillan India has moved its core enterprise applications — Business Intelligence (BI), Sales and Distribution, Materials Management, Financial Accounting and Controlling, Human Resources and a customer relationship management (CRM) system from an existing data center in Chennai to AWS. By moving to AWS, Macmillan India has boosted SAP system availability to almost 100 percent and reduced the time it takes them to provision infrastructure from 6 weeks to 30 minutes.
Partners
We are pleased to be working with a broad selection of partners in India. Here's a sampling:
AWS Premier Consulting Partners – Cognizant, BlazeClan Technologies Pvt. Limited, Minjar Cloud Solutions Pvt Ltd, and Wipro.
AWS Consulting Partners – Accenture, Cloudcover, Frontier, HCL, Powerupcloud, TCS, and Wipro.
AWS Technology Partners – Freshdesk, Druva, Indusface, Leadsquared, Manthan, Mithi, Nucleus Software, Newgen, Ramco Systems, Sanovi, and Vinculum.
AWS Managed Service Providers – Progressive Infotech and Spruha Technologies.
AWS Direct Connect Partners – AirTel, Colt Technology Services, Global Cloud Xchange, GPX, Hutchison Global Communications, Sify, and Tata Communications.
Amazon Offices in India
We have opened six offices in India since 2011 – Delhi, Mumbai, Hyderabad, Bengaluru, Pune, and Chennai. These offices support our diverse customer base in India including enterprises, government agencies, academic institutions, small-to-mid-size companies, startups, and developers.
Support
The full range of AWS Support options (Basic, Developer, Business, and Enterprise) is also available for the Mumbai Region. All AWS support plans include an unlimited number of account and billing support cases, with no long-term contracts.
Compliance
Every AWS region is designed and built to meet rigorous compliance standards including ISO 27001, ISO 9001, ISO 27017, ISO 27018, SOC 1, SOC 2, and PCI DSS Level 1 (to name a few). AWS implements an information Security Management System (ISMS) that is independently assessed by qualified third parties. These assessments address a wide variety of requirements which are communicated to customers by making certifications and audit reports available, either on our public-facing website or upon request.
To learn more; take a look at the AWS Cloud Compliance page and our Data Privacy FAQ.
Use it Now
This new region is now open for business and you can start using it today! You can find additional information about the new region, documentation on how to migrate, customer use cases, information on training and other events, and a list of AWS Partners in India on the AWS site.
We have set up a seller of record in India (known as AISPL); please see the AISPL customer agreement for details.
— Jeff;