Now Open – AWS London Region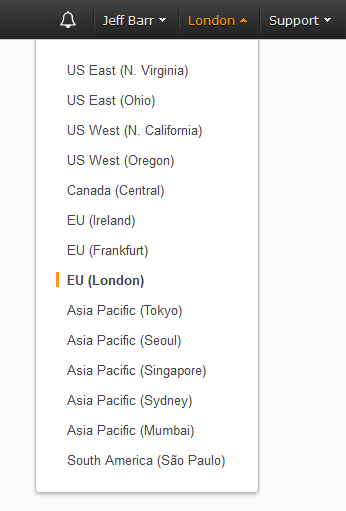 Last week we launched our 15th AWS Region and today we are launching our 16th. We have expanded the AWS footprint into the United Kingdom with a new Region in London, our third in Europe. AWS customers can use the new London Region to better serve end-users in the United Kingdom and can also use it to store data in the UK.
The Details
The new London Region provides a broad suite of AWS services including Amazon CloudWatch, Amazon DynamoDB, Amazon Elastic Container Service (Amazon ECS), Amazon ElastiCache, Amazon Elastic Block Store (Amazon EBS), Amazon Elastic Compute Cloud (Amazon EC2), Amazon Elastic Container Registry (Amazon ECR), Amazon EMR, Amazon Glacier, Amazon Kinesis Streams, Amazon Redshift, Amazon Relational Database Service (RDS), Amazon Simple Notification Service (Amazon SNS), Amazon Simple Queue Service (Amazon SQS), Amazon Simple Storage Service (Amazon S3), Amazon Simple Workflow Service (SWF), Amazon Virtual Private Cloud (Amazon VPC), Auto Scaling, AWS Certificate Manager (ACM), AWS CloudFormation, AWS CloudTrail, AWS CodeDeploy, AWS Config, AWS Database Migration Service, AWS Elastic Beanstalk, AWS Snowball, AWS Snowmobile, AWS Key Management Service (AWS KMS), AWS Marketplace, AWS OpsWorks, AWS Personal Health Dashboard, AWS Shield Standard, AWS Storage Gateway, AWS Support API, Elastic Load Balancing, VM Import/Export, Amazon CloudFront, Amazon Route 53, AWS Web Application Firewall, AWS Trusted Advisor, and AWS Direct Connect (follow the links for pricing and other information).
The London Region supports all sizes of C4, D2, M4, T2, and X1 instances.
Check out the AWS Global Infrastructure page to learn more about current and future AWS Regions.
From Our Customers
Many AWS customers are getting ready to use this new Region. Here's a very small sample: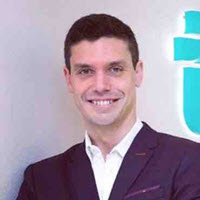 Trainline is Europe's number one independent rail ticket retailer. Every day more than 100,000 people travel using tickets bought from Trainline. Here's what Mark Holt (CTO of Trainline) shared with us:
We recently completed the migration of 100 percent of our eCommerce infrastructure to AWS and have seen awesome results: improved security, 60 percent less downtime, significant cost savings and incredible improvements in agility. From extensive testing, we know that 0.3s of latency is worth more than 8 million pounds and so, while AWS connectivity is already blazingly fast, we expect that serving our UK customers from UK datacenters should lead to significant top-line benefits.
Kainos Evolve Electronic Medical Records (EMR) automates the creation, capture and handling of medical case notes and operational documents and records, allowing healthcare providers to deliver better patient safety and quality of care for several leading NHS Foundation Trusts and market leading healthcare technology companies.
Travis Perkins, the largest supplier of building materials in the UK, is implementing the biggest systems and business change in its history including the migration of its datacenters to AWS.
Just Eat is the world's leading marketplace for online food delivery. Using AWS, JustEat has been able to experiment faster and reduce the time to roll out new feature updates.
OakNorth, a new bank focused on lending between £1m-£20m to entrepreneurs and growth businesses, became the UK's first cloud-based bank in May after several months of working with AWS to drive the development forward with the regulator.
Partners
I'm happy to report that we are already working with a wide variety of consulting, technology, managed service, and Direct Connect partners in the United Kingdom. Here's a partial list:
AWS Premier Consulting Partners – Accenture, Claranet, Cloudreach, CSC, Datapipe, KCOM, Rackspace, and Slalom.
AWS Consulting Partners – Attenda, Contino, Deloitte, KPMG, LayerV, Lemongrass, Perfect Image, and Version 1.
AWS Technology Partners – Splunk, Sage, Sophos, Trend Micro, and Zerolight.
AWS Managed Service Partners – Claranet, Cloudreach, KCOM, and Rackspace.
AWS Direct Connect Partners – AT&T, BT, Hutchison Global Communications, Level 3, Redcentric, and Vodafone.
Here are a few examples of what our partners are working on:
KCOM is a professional services provider offering consultancy, architecture, project delivery and managed service capabilities to large UK-based enterprise businesses. The scalability and flexibility of AWS gives them a significant competitive advantage with their enterprise and public sector customers. The new Region will allow KCOM to build innovative solutions for their public sector clients while meeting local regulatory requirements.
Splunk is a member of the AWS Partner Network and a market leader in analyzing machine data to deliver operational intelligence for security, IT, and the business. They use cloud computing and big data analytics to help their customers to embrace digital transformation and continuous innovation. The new Region will provide even more companies with real-time visibility into the operation of their systems and infrastructure.
Redcentric is a NHS Digital-approved N3 Commercial Aggregator. Their work allows health and care providers such as NHS acute, emergency and mental trusts, clinical commissioning groups (CCGs), and the ISV community to connect securely to AWS. The London Region will allow health and care providers to deliver new digital services and to improve outcomes for citizens and patients.
Visit the AWS Partner Network page to read some case studies and to learn how to join.
Compliance & Connectivity
Every AWS Region is designed and built to meet rigorous compliance standards including ISO 27001, ISO 9001, ISO 27017, ISO 27018, SOC 1, SOC 2, SOC3, PCI DSS Level 1, and many more. Our Cloud Compliance page includes information about these standards, along with those that are specific to the UK, including Cyber Essentials Plus.
The UK Government recognizes that local datacenters from hyper scale public cloud providers can deliver secure solutions for OFFICIAL workloads. In order to meet the special security needs of public sector organizations in the UK with respect to OFFICIAL workloads, we have worked with our Direct Connect Partners to make sure that obligations for connectivity to the Public Services Network (PSN) and N3 can be met.
Use it Today
The London Region is open for business now and you can start using it today! If you need additional information about this Region, please feel free to contact our UK team.
— Jeff;
Modified 2/11/2021 – In an effort to ensure a great experience, expired links in this post have been updated or removed from the original post.