AWS Asia Pacific (Osaka) Region Now Open to All, with Three AZs and More Services
AWS has had a presence in Japan for a long time! We opened the Asia Pacific (Tokyo) Region in March 2011, added a third Availability Zone (AZ) in 2012, and a fourth in 2018. Since that launch, customers in Japan and around the world have used the region to host an incredibly wide variety of applications!
We opened the Osaka Local Region in 2018 to give our customers in Japan a disaster recovery option for their workloads. Located 400 km from Tokyo, the Osaka Local Region used an isolated, fault-tolerant design contained within a single data center.
From Local to Standard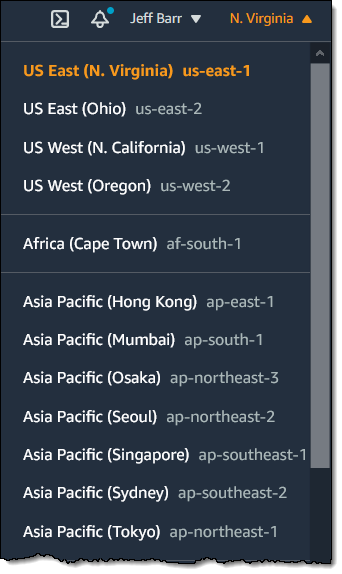 I am happy to announce that the Osaka Local Region has been expanded and is a now a standard AWS region, complete with three Availability Zones. As is always the case with AWS, the AZs are designed to provide physical redundancy, and are able to withstand power outages, internet downtime, floods, and other natural disasters.
The following services are available, with more in the works: Amazon Elastic Kubernetes Service (EKS), Amazon API Gateway, Amazon EC2 Auto Scaling, Application Auto Scaling, Amazon Aurora, AWS Config, AWS Personal Health Dashboard, AWS IQ, AWS Organizations, AWS Secrets Manager, AWS Shield Standard (regional), AWS Snowball Edge, AWS Step Functions, AWS Systems Manager, AWS Trusted Advisor, AWS Certificate Manager, CloudEndure Migration, CloudEndure Disaster Recovery, AWS CloudFormation, Amazon CloudFront, AWS CloudTrail, Amazon CloudWatch, CloudWatch Events, Amazon CloudWatch Logs, AWS CodeDeploy, AWS Database Migration Service, AWS Direct Connect, Amazon DynamoDB, Elastic Container Registry, Amazon Elastic Container Service (Amazon ECS), AWS Elastic Beanstalk, Amazon Elastic Block Store (Amazon EBS), Amazon Elastic Compute Cloud (Amazon EC2), EC2 Image Builder, Elastic Load Balancing, Amazon EMR, Amazon ElastiCache, Amazon EventBridge, AWS Fargate, Amazon Glacier, AWS Glue, AWS Identity and Access Management (IAM), AWS Snowball, AWS Key Management Service (AWS KMS), Amazon Kinesis Data Firehose, Amazon Kinesis Data Streams, AWS Lambda, AWS Marketplace, AWS Mobile SDK, Network Load Balancer, Amazon Redshift, Amazon Relational Database Service (RDS), Amazon Route 53, Amazon Simple Notification Service (Amazon SNS), Amazon Simple Queue Service (Amazon SQS), Amazon Simple Storage Service (Amazon S3), Amazon Simple Workflow Service (SWF), AWS VPN, VM Import/Export, AWS X-Ray, AWS Artifact, AWS PrivateLink, and Amazon Virtual Private Cloud (Amazon VPC).
The Asia Pacific (Osaka) Region supports the C5, C5d, D2, I3, I3en, M5, M5d, R5d, and T3 instance types, in On-Demand, Spot, and Reserved Instance form. X1 and X1e instances are available in a single AZ.
In addition to the AWS regions in Tokyo and Osaka, customers in Japan also benefit from:
16 CloudFront edge locations in Tokyo.
One CloudFront edge location in Osaka.
One CloudFront Regional Edge Cache in Tokyo.
Two AWS Direct Connect locations in Tokyo.
One Direct Connect location in Osaka.
Here are typical latency values from the Asia Pacific (Osaka) Region to other cities in the area:
| | |
| --- | --- |
| City | Latency |
| Nagoya | 2-5 ms |
| Hiroshima | 2-5 ms |
| Tokyo | 5-8 ms |
| Fukuoka | 11-13 ms |
| Sendai | 12-15 ms |
| Sapporo | 14-17 ms |
| Seoul | 27 ms |
| Taipei | 29 ms |
| Hong Kong | 38 ms |
| Manila | 49 ms |
AWS Customers in Japan
As I mentioned earlier, our customers are using the AWS regions in Tokyo and Osaka to host an incredibly wide variety of applications. Here's a sampling:
Mitsubishi UFJ Financial Group (MUFG) – This financial services company adopted a cloud-first strategy and did their first AWS deployment in 2017. They have built a data platform for their banking and group data that helps them to streamline administrative processes, and also migrated a market risk management system. MUFG has been using the Osaka Local Region and is planning to use the Asia Pacific (Osaka) Region to run more workloads and to support their ongoing digital transformation.
KDDI Corporation (KDDI) – This diversified (telecommunication, financial services, Internet, electricity distribution, consumer appliance, and more) company started using AWS in 2016 after AWS met KDDI's stringent internal security standards. They currently build and run more than 60 services on AWS, including the backend of the au Denki application, used by consumers to monitor electricity usage and rates. They plan to use the Asia Pacific (Osaka) Region to initiate multi-region service to their customers in Japan.
OGIS-RI – Founded in 1983, this global IT consulting firm is a part of the Daigas Group of companies. OGIS-RI provides information strategy, systems integration, systems development, network construction, support, and security. They use AWS to provide their enterprise customers with ekul, a data measurement service that measures and visualizes gas and electricity usage in real time and send it to corporate customers across Japan.
Sony Bank – Founded in 2001 as an asset management bank for individuals, Sony Bank provides services that include foreign currency deposits, home loans, investment trusts, and debit cards. Their gradual migration of internal banking systems to AWS began in 2013 and was 80% complete at the end of 2019. This migration reduced their infrastructure costs by 60% and more than halved the time it once took to procure and build out new infrastructure.
AWS Resources in Japan
As a quick reminder, enterprises, government and research organizations, small and medium businesses, educators, and startups in Japan have access to a wide variety of AWS and community resources. Here's a sampling:
AWS Premium Support for the Japanese-speaking market.
AWS Solutions Architects who can speak Japanese.
JAWS-UG (Japan AWS User Group).
Available Now
The new region is open to all AWS customers and you can start to use it today!
— Jeff;